Every one of us is probably familiar with ball stop systems as they are to be found on almost every sports ground to stop balls and to protect the spectators. But do you know that artec Sportgeräte produces high-quality ball stop systems and that these systems set quality standards in the market? Please continue to learn more about our high-quality products.
In our online shop you will find further details to our playing fields and soccer courts:
Top quality by artec at a fair price
Ball stop systems for all kinds of sports
As leading producer of high-quality sports equipment, it is important to us that our customers not only can buy from us the equipment immediately connected to the respective sport, but also can purchase all accessories from artec. Of course, this includes ball stop systems and ball stop nets which, in general, can be used for several sports at the same time (e.g. soccer, handball, track and field athletics, etc.). We not only install our ball stop systems in large soccer stadiums but also on many sports grounds, recreational football grounds, school yards and other sports facilities. By doing so we have established our reputation as quality leader for high-quality ball stop systems at a fair price!
Technical equipment of ball stop systems
We produce our ball stop systems using only high-quality aluminium profiles with different dimensions depending on height and requested interspace between the posts. In detail we offer the technical equipment of ball stop systems as listed below:
Post profile 80 x 80 mm, with heights of 3,00 m and 4,00 m
Post profile 100 x 120 mm, with heights of 5,00 m and 6,00 m
Post profile 100 x 120 mm, wall thickness 4 ascending to 6 mm, with heights from 5,00 to 8,00 m
Post profile 142x 98 mm, wall thickness 8 mm, with heights from 5,00 to 8,00 m
Cross-beams for ball stop systems with a profile of 80 x 60 mm
For all above mentioned post profiles of ball stop systems we also delivery the necessary ground sockets for custom-fit installation of the post into the ground. For stability of the posts among each other we use corresponding cross-beams.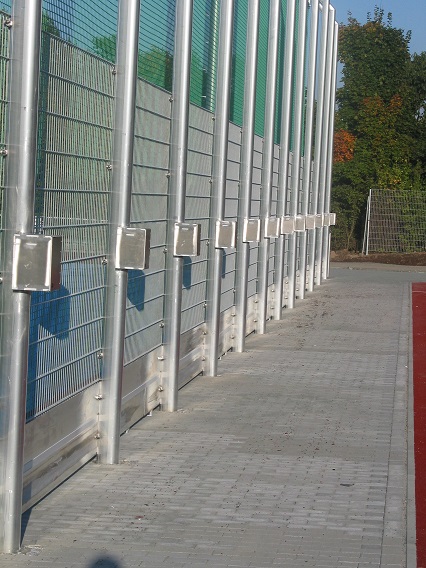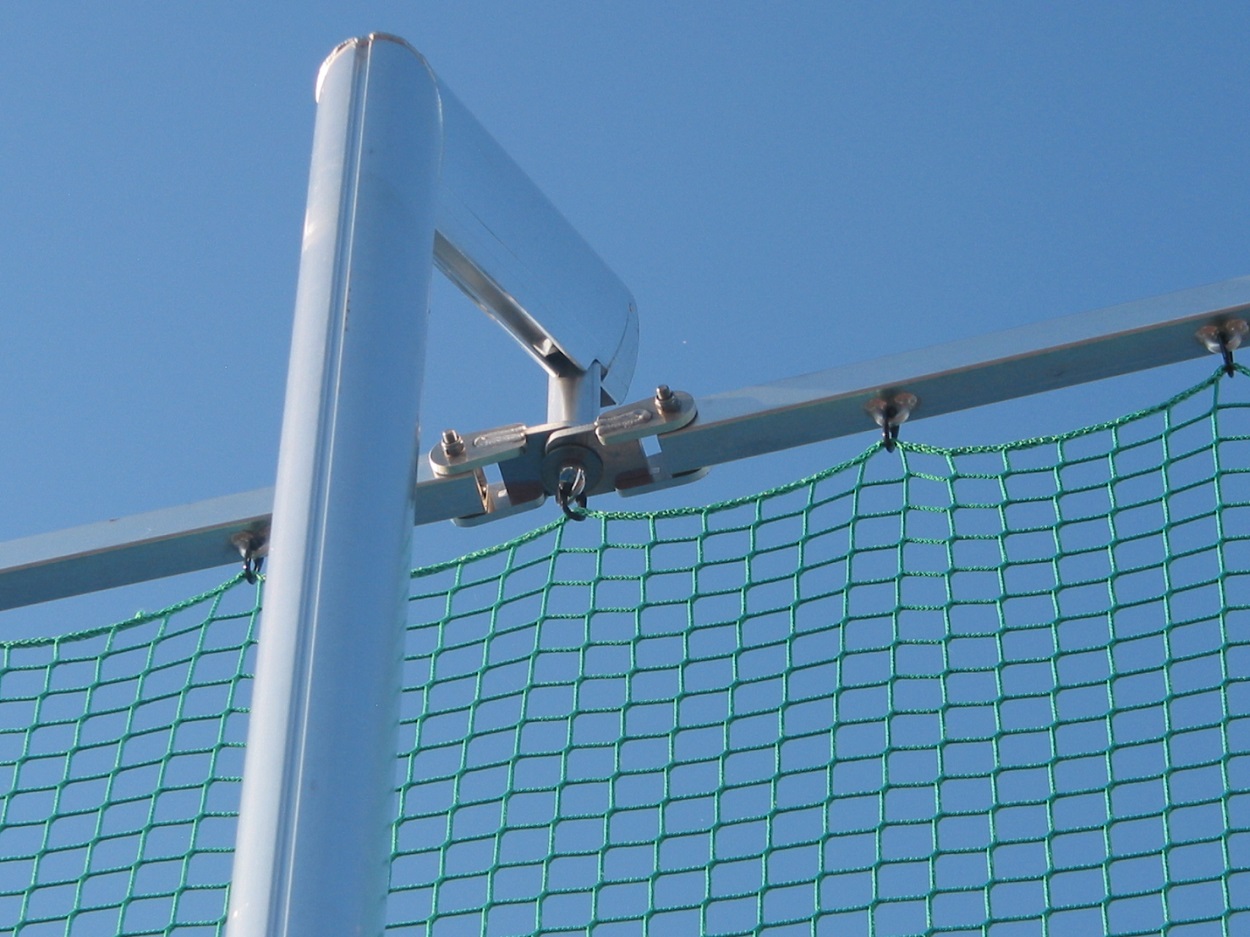 Ball stop nets and accessories for ball stop systems
We can deliver the ball stop nets in different colours and mesh sizes. For the net suspension we deliver, of course, the necessary equipment such as steel wire ropes, thimbles and turnbuckles as well as nylon rings for the net suspension:
Mesh sizes for ball stop nets

45 x 45 mm
100 x 100 mm
120 x 120 mm

Colours in all prevalent standard colours (green, black, white, etc.) as well as bicoloured nets
Steel wire ropes for the ball stop net suspension in the sizes 3/4 mm and 4/5 mm
Thimbles and turnbuckles for steel wire ropes
Nylon rings for net suspension
As a visual highlight we recommend our bicoloured nets in club colours. Hereby our customers can widely present their club colours on the sports ground and also stimulate the identification with the club!
In our premium version we deliver the ball stop nets with additional cantilevers and free hanging nets to guarantee an exceptionally even hanging of the nets. But that's not all: For optimal user convenience we equip our ball stop systems with a rigging device to allow comfortable lifting and lowering of the nets!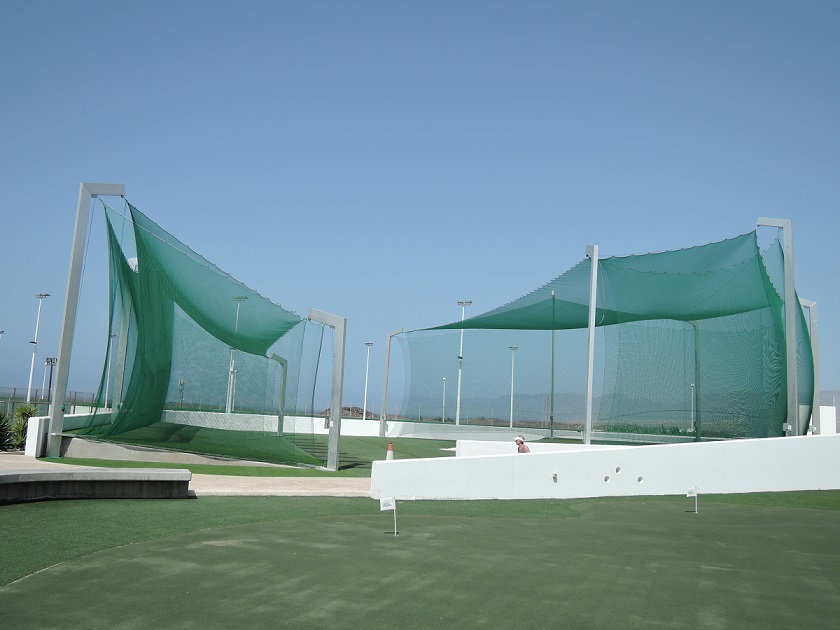 Advisory service for planning ball stop systems
Prompt & competent advice from artec Sportgeräte!
De facto, the dimensioning and planning of ball stop systems is not always easy: ball stop systems in different heights, in angled designs or with different post profiles are necessary. Here the needed mesh sizes as well as the interspaces of the post profiles vary, so basically there is not standard design for ball stop systems, but all systems have to be planned according to requirements and location. For customers of artec Sportgeräte this, however, poses no problem as we support our customers with our planning and advisory service comprehensively and competently from the very beginning of the planning. We deliver our customers the necessary details about the interspaces between the posts, the necessary cross-beams between the posts and give information in respect of the static design as well as the ground anchoring. For more information about our products, services and activities please also see the following links:
TOP-quality with professional advice by artec!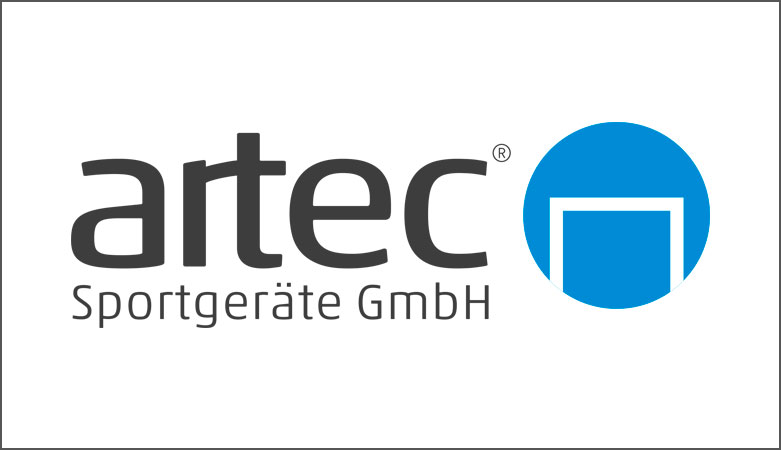 artec Sportgeräte – simple. unique. artec.