Competition hurdles with IAAF certificate
including hurdle trolley made of aluminium
A few weeks ago, we delivered a complete set of competition hurdles including aluminum hurdle trolley to Switzerland for our partner VOGASPORT AG. We would like to take this newest order for which the IAAF certified competition hurdles have been specially produced with customer requested design, as an opportunity to introduce our competition hurdles with hurdle aluminum trolley in more detail. If you are immediately interested in buying these products, we also recommend you have a look at our online shop:
Competition hurdles including hurdle trolley
available in many different designs
From artec Sportgeraete you will get high-quality competition hurdles with trolley dirctly from the manufacturer for the all kinds of purposes. The possible applications go from competitions to training to school sport so that you will always find what you need when it comes to IAAF certified competition hurdles, training hurdles or hurdle trolleys. And all that manufactured in-house in the established highest qualtiy of artec!
IAAF certified hurdles for competitions
Especially for competition hurdles it is important that the hurdles can be moved about quickly and easily during competitons, where the schedules are tight. To meet this requirement optimally at all times, we construct out competition hurdles with a simple internal height and weight adjustment (6-fold) which can be adjusted easily and quickly with an brass lever (see video below). The adjusted height can easily be established by the scale which is embedded in the profile. To keep the risk of injuries for the athletes and the appointed judges and helpers as low as possible, we produce our hurdles without sharp or protuding edges (rounded profiles) and use high-quality ash wood. Our competition hurdles are, of course, TÜV tested (German Association for Technical Inspection), are issued with the required IAAF certificates and are designed, produced and tested for quality at our company site in Melle so that we can guarantee a continuing enhancement on the highest technical standard. This becomes clear by the fact that our products, time and again, are used at national and international competitions!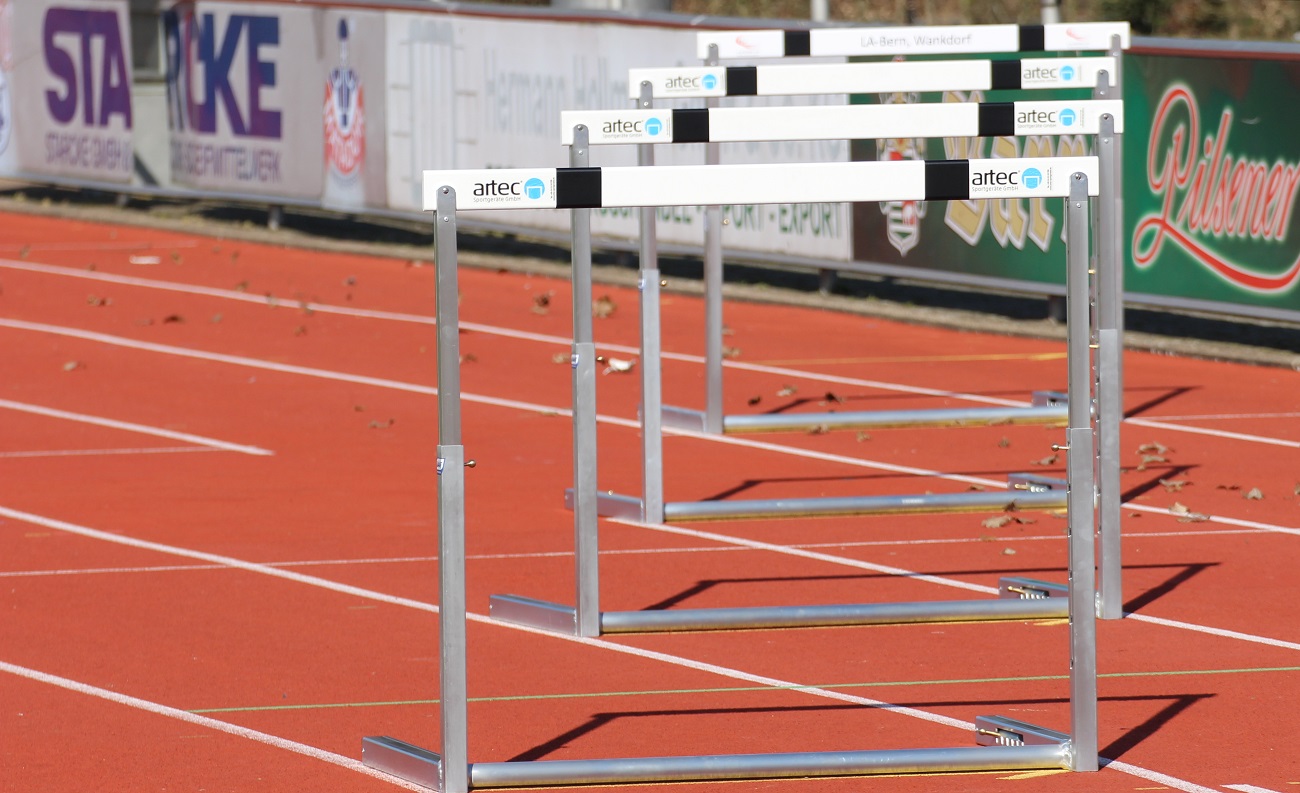 Hurdle aluminium trolley
As hurdles are almost always only temporarily in use and have to be transported again and again from storage to the site, one has to address the question of optimal storage as well as easy transport. The perfect answer to this requirement are our hurdle trolleys made of aluminium which have been well-proven for many years. For the transport we have high-quality and very sturdy aluminium trolleys in our assortment which convince by their simple and quick handling, easy drivability as well as very sturdy construction. The following trolleys are available from artec as standard design (special designs are possible too, of course):
Transport trolley to be loaded from the back for the following quantities of hurdles:
Transport trolley to be loaded from the side for the following quantaties of hurdles:
Multiple possible applications
In the course of customer counselling we realise again and again that customers are not always aware of which possible uses hurdles have, or rather that hurdles can not only be used for track and field athletics. For example, hurdles can also be used for bounce training for many other sports. The training with hurdles is highly demanding on the athletes regarding coordination as well as their flexibility and technique and therefore, with this training method important motion sequences are optimised and automated.
Quality directly from the manufacturer
From foundation of the company to this day, product quality ranks first at artec.  This applies especially to our products in the range of track and field athletics as these are often also used on the highest level in international competitions. In the last decades, we have established a good reputations as quality leader at home and abroad with our high-quality products: the name artec Sportgeräte is linked with highest product quality at an ideal price-performance ratio. The high production quality is guaranteed with craftsmen production by a technically experienced and highly motivated team at our company site in Melle. We convince our customers with short delivery times and a mostly flexible planning at the same time. But that's not all: apart from the short delivery times we impress with punctuality and reliability thus establishing stable business contacts to our customers!
Hurdles and trolleys from artec …
… gladly with personal advice!
If you, too, are interested in high quality athletics products for your stadium or your sports grounds we are looking forward to hearing from you. We are pleased to assist with specialist counselling at telefone +49 (0) 5422 9470 0 or by email at info@artec-sportgeraete.de. We advise with high expertise on all commercial and technical questions relating to track and field athletics. See for yourself!
For more information about our products, services and activities please also see the following links in our "startblog":