Dugout in top quality
With the dugout nobody sits in the rain – that's guaranteed! The coach and reserve bench offers the coach and the players a comfortable way to follow the game. The roofed dugout reliably protects against wind and weather! You can get an overview of our dugouts in this article or directly in our online shop:
The dugout of artec® Sportgeräte is available in many different designs: In different lengths, covered, in German military standard, with Recaro seats, and much more. Thus, we identify the dugout for every sports field and stadium, which optimally suits the individual needs. In addition to the standard versions, artec® also offers custom-made products in almost any size and with optional equipment.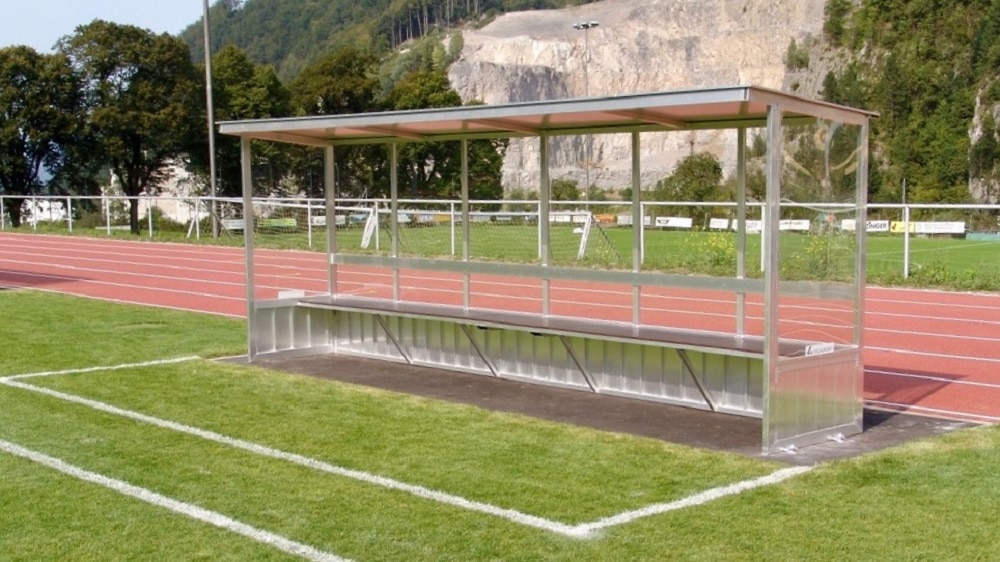 For our customers, we have dugouts of the highest quality in our program. The product portfolio ranges from the dugout for the club sports field (2.5 to 5.0 metres long) to the dugout in luxury design. This can be 22 metres long and can be equipped with heated Recaro seats. Coaches and players enjoy a high level of comfort on the trainer's and reserve bench.
Besides the different equipment features, the dugouts by artec® have in common that they are manufactured in robust and extraordinary quality at our company site in Melle, Germany. They are fully welded and are made of thick-walled aluminium profiles. Thus we can guarantee a long durability. Because they are manufactured in one piece, no high assembly effort is required. In order to achieve high stability, we recommend anchoring the dugouts to the floor.
Two equipment lines
Premium and easytec dugouts
In general, the dugout in standard design can have a length between 2.5 m and 5.0 m. In addition, the reserve bench can be manufactured with slanted or curved roofage – depending on the customer's requirements. Of course, our customers also decide whether a bench made of special wood or bucket seats should be integrated. Further equipment features, such as an equipment box that can be used as a seat, are also available on request.
artec® offers two equipment lines: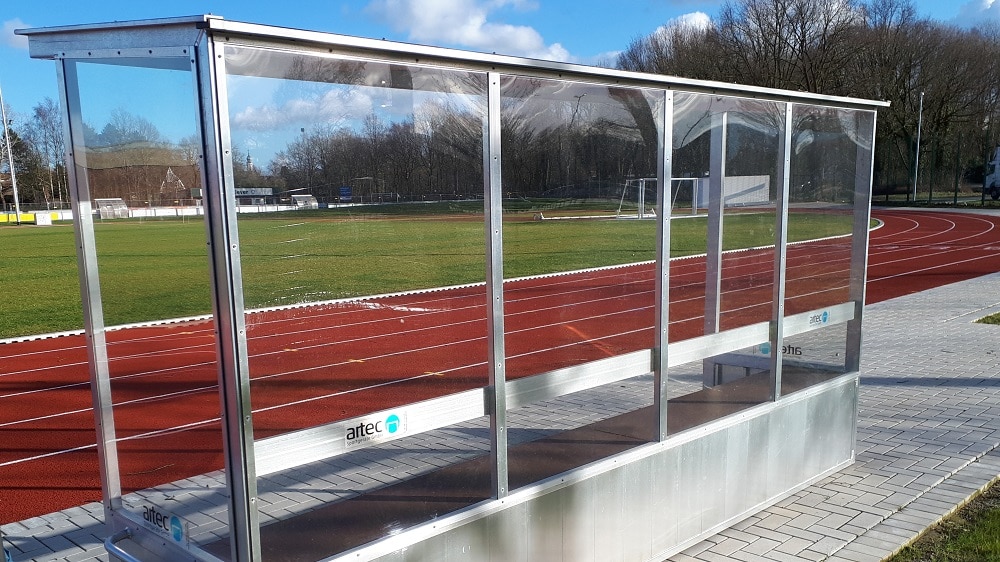 The dugout in premium class consists of high-quality and thick-walled aluminium profiles. In addition, the benches are equipped with Macrolon glazing in various optical variations. This glazing is impact and break-resistant, so that even powerful shots cannot damage the dugout. As the glazing is also UV-resistant, clear visibility is permanently ensured. Due to the robust construction and the high quality, these dugouts are also very durable.
The dugout of our premium class is also characterised by the following equipment features:
floor plate made of non-slip aluminium profiles
carrying handles welded on both sides
The easytec version lacks the features just mentioned (base plate and carrying handles). Compared to the premium version, this results in lower costs for our customers while maintaining the same quality standards for the product.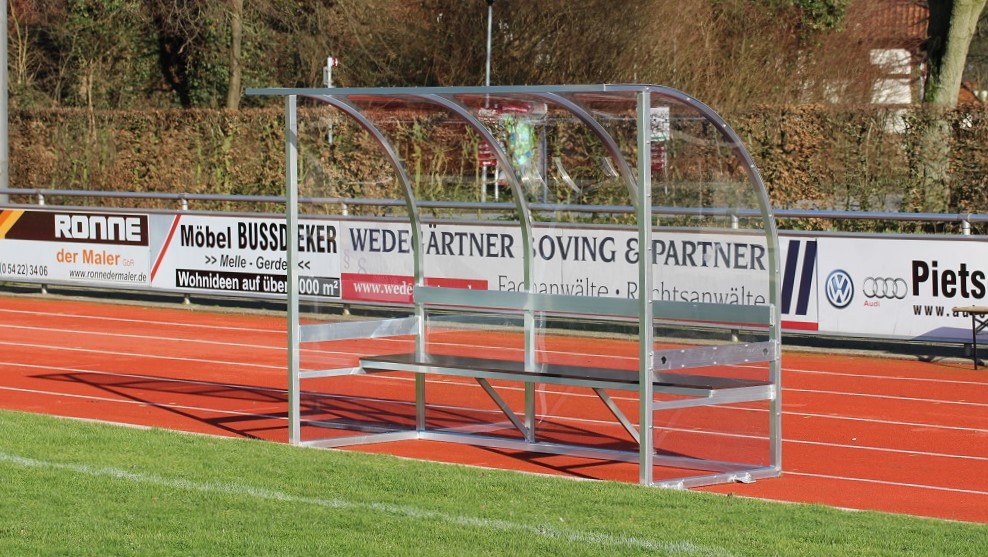 Transport trolley for dugouts
To move the dugouts around on the sports facility, we also have transport trolleys in our portfolio. These are either equipped with foam-filled pneumatic wheels or with polyamide wheels, which allow the dugout to be moved quickly and easily. The transport trolleys are also made of aluminium and have a very high stability.
Dugouts from the manufacturer
With our dugouts and team shelters we have the optimal dugout for every demand and need. It's guaranteed that no wishes remain unfulfilled! You can either order the dugout directly in our online shop or send us your inquiry. If you have any questions, our competent team will be happy to assist you at +49 (0) 5422 / 9470-0 or at e-mail info@artec-sportgeraete.de.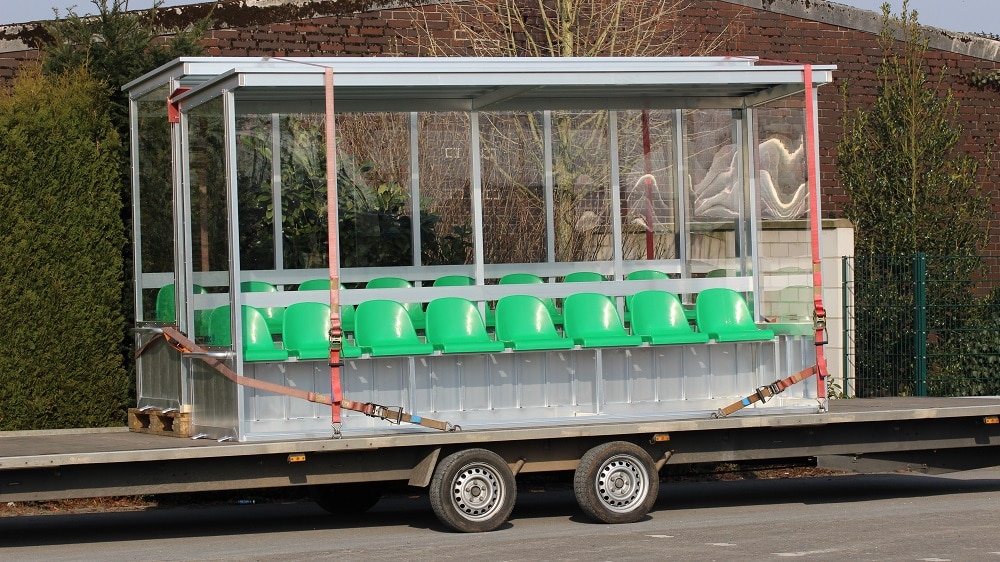 Product portfolio from artec®
In addition to aluminium dugouts, artec® has a broad product portfolio of sports equipment for various disciplines. These include in particular football and athletics disciplines, but also other ball sports like basketball, volleyball or handball. We also offer requirements for sports grounds – such as barriers and drainage systems. More information about our products is also available in our online shop or in our blog posts. Here is a small selection of our articles:
artec Sportgeräte – simply. unique. artec.