Facts about football goals
With this article we would like to set up a small handbook for football goals to give you useful tips and facts about football goals. As a manufacturer we have already experienced a lot with regard to the production and sale of football goals, so that we would like to pass on our experiences in this article in an informative way. Maybe this information helps you with your future purchase of football goals and to have a closer look and find the right goal for you and your club. So, let's get started: 
From
A
to
G
Football goals for champions according to DIN/EN 748
A as in assembly 
The correct installation must be observed. Apart from the permanently installed goals, which are usually positioned in ground sockets, there is a number of mobile football goals (e.g. training goals, junior goals, small field goals, mini goals…). For mobile goals a safe positioning is always to be guaranteed to prevent the goals from tipping or falling over. For this purpose, there are suitable anti-tilt systems that safely prevent tipping over and thus minimise possible liability risks! 
B as in base frame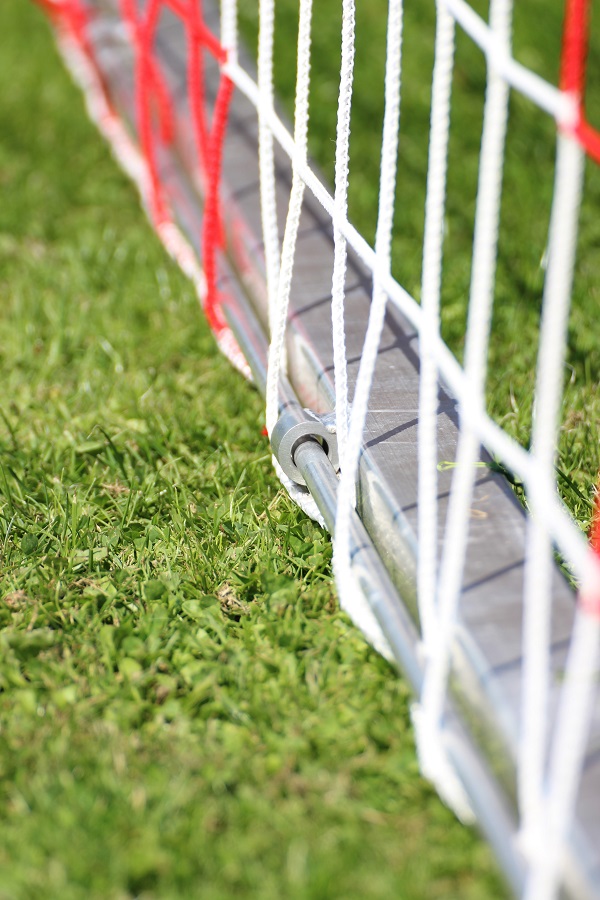 The base frame is an important feature of every football goal. In the case of competition goals, the base frames can usually be folded up so that the lawn can be mowed without obstacles behind the permanently installed goals. For mobile football goals, a base frame made of very stable profiles is an absolute MUST HAVE: Firstly, because the anti-tilt devices are usually attached to the base frame and secondly, because large forces are exerted on the base frame of mobile football goals! For mobile football goals, carrying handles are also an advantage which should not be underestimated!
C as in champions 
Real champions are connoisseurs: While active football players usually focus on the goal from the front, the goal expert looks at football goals from behind. Because from that perspective the expert identifies the technical details of football goals and can distinguish the different qualities (e.g. profiles, net suspension systems, net depths, etc)! 
D as in DIN/EN 748 (German version of the EN 748:2013+A1:2018) 
The technical requirements as well as the safety of football goals arise from the regulations of the municipal accident associations as well as from the DIN/EN 748. Here, for example, is defined that mobile football goals have to be equipped with ground anchoring (e.g. ground sockets, ground anchors, etc) or that appropriate counterweights have to be used in order to achieve the necessary stability. It is also stipulated which materials may be used and how the solidness or stability has to be tested. 
E as in earthing (ground anchor) 
For certain football goals or their intended use ground anchors are the suitable fastening technology. Recreational goals, for example, or also mini goals are installed with anchors to the ground if they are used on playgrounds or in soccer courts. Firstly, this prevents these goals to be stolen from public places and secondly, it ensures an absolute safety against tipping over. 
F as in football 
The round goes into the square: What sounds so simple and logical is not always so easy! Even German ex-football stars such as Frank Mill, Thomas Helmer or Stefan Kiesling know this! But jokes aside! Let's have a quick look at the history of football: the early versions of football go as far back as the second millennium BC and are to be found in China under the name Cuju. Also, in other cultures early forms of football were practised as more or less military play and exercise forms (Greeks, Romans, etc). In the early Middle Ages, "Folk Football" (Shrovetide) developed in England, which was played between two cities and aimed at the respective city gate. The modern football developed from 1848 onwards through first rules at Cambridge University. The first football club, FC Sheffield, was founded in 1857 and the FA was founded in London in 1863. From about 1875 onwards, it was played onto posts and crossbars and the goal net was included in the rules in 1891. Thus, the year 1891 can be described as the "birth hour" of today's football goals. 

From G to K
All sizes also available with anti-tilt devices
G as in goal size 
Football goals are available in many different sizes! Starting with the competition goals in the senior area in the size 7.32 x 2.44 m to junior goals in the size 5.0 x 2.0 m as well as recreational goals with the dimensions 3.0 x 2.0 m up to mini goals in many different sizes (3.0 x 1.0 m / 2.4 x 1.6 m / 1.8 x 1.2 m / 1.2 x 0.8 m). In addition, there are of course also special designs with individual dimensions, which are manufactured on special customer request. In the children's and youth sector, more and more height adjustable goals with flexible crossbars are used. This enhances the technique of the offspring and prevents shooting at heights that the goalkeeper cannot reach. 
H as in hind framework (rear framework) 
The rear framework of football goals refers to whether the rear framework is open or closed. An open rear framework requires a goal net, whereas for a closed rear framework no goal net is needed as robust aluminium profiles are used here (to be found on mini goals and recreational goals, for example). 
I as in installation 
The installation of football goals differs depending on the type of construction. While competition goals are usually installed with ground sockets built into concrete, the installation of mobile football goals is usually limited to the production of the respective anti-tilt device. While the competition goals are often removed from the ground sockets after use and hung up in a suitable place, appropriate storage areas should be provided on the sports facilities for mobile goals, which can easily be reached by moving the goals (Attention with barrier systems – passages for mobile goals should be planned here!). 
J as in junior goals 
Junior goals are goals with a size of 5.0 x 2.0 m. These goals are used for different age groups in the youth sector. Here the playing field is partially played crosswise or also from penalty room to penalty room. As junior goals are almost always mobile goals, the topic of tilt protection should be taken very seriously. However, it should also be borne in mind that high forces can occur when moving the junior goals due to the counterweight installed. Therefore, trainers and supervisors should always pay close attention when moving the gates and point out the potential dangers as a precaution. 
K as in k(c)ounterweight (anti-tilt device) 
The anti-tilt device is very important for all forms of mobile football goals. Mobile goals should always be secured against tipping over! In the past, time and again there have been serious accidents with goals falling over, in which people have also been injured and thus resulting in the question of liability!  There is a variety of systems which can be used to prevent tipping over. From ground pegs to anchoring screws to mobile weights and permanently installed anti-tilt devices the market offers different systems of professional anti-tilt devices for football goals! Important: the necessary counterweights for tilt protection depend on the size and net depth of the goals and can be up to 200 kg at peak!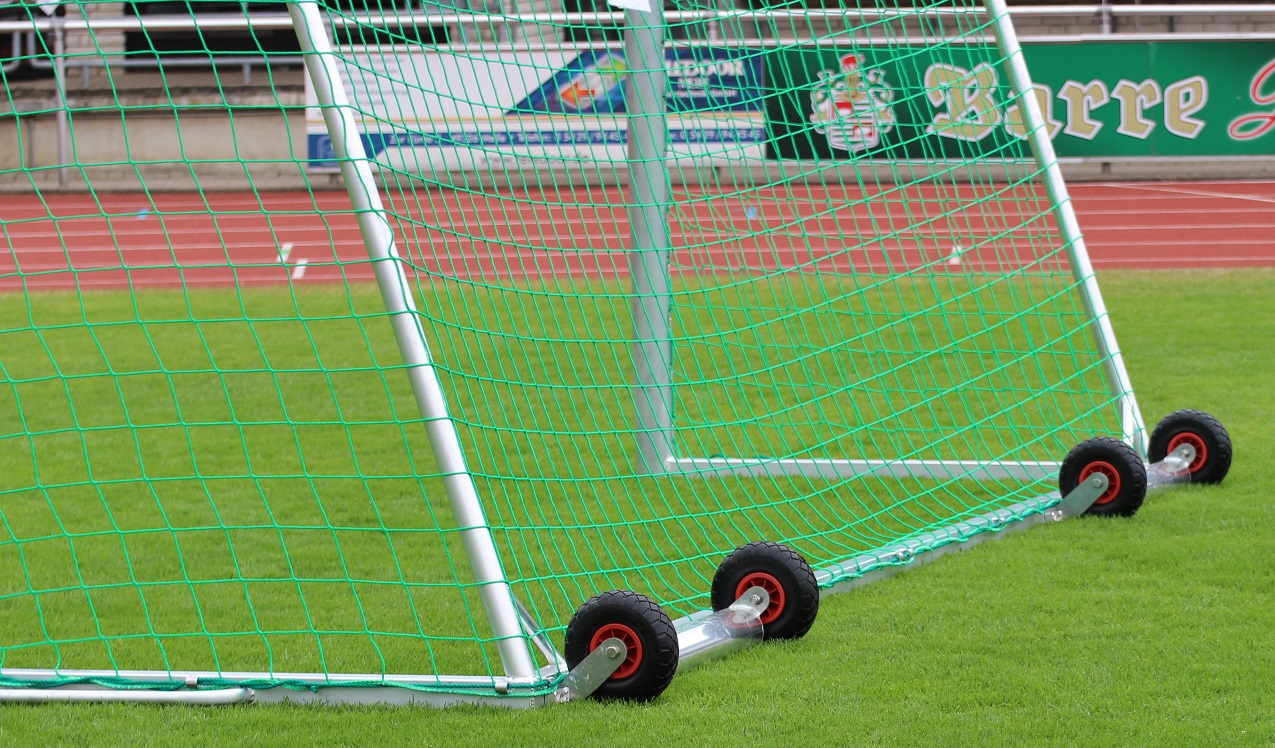 From L to P
Longevity and tilt protection
L as in life span 
The life span of football goals depends very much on the respective construction of the goals, the technical processing and the profiles used. Important quality features are the existence of reinforcing elements (corner connectors), the processing of the welding seams and, above all, the thickness of the profiles used.  The thickness of the profiles ranges from 1.8 mm to 2.5 mm (sometimes even 3 mm).  And this is where the wheat is quickly separated from the chaff! Our recommendation: Top quality football goals should last well over ten years if used properly! 
M as in mini goals
Mini goals are very popular, small football goals, which have various purposes. Starting with the use on playgrounds and in soccer courts, to training in the professional and amateur area and all the way to the private garden!  When we are speaking of mini goals, we mean fully welded or, if necessary, screwed professional mini goals with post and crossbar profiles of 100 x 120 mm or 80 x 80 mm. We do not mean products with "thin tubes" for crossbars and posts, which have a completely different price level and have already done their service after a short time. Talking about mini goals here, we mean proper mini goals which have a life expectancy of 10 years and more! 
N as in net suspension 
Net suspension is one of the most discussed topics for football goals. It is about the way goal nets are attached. Here, common are the so-called integrated net suspension and net hooks. With the (higher quality) integrated net suspension, the suspension points for the goal nets are located within the post and crossbar profiles, so that this net suspension is characterised by having no protruding parts. Net suspensions with net hooks, on the other hand, are the (mostly) cheaper variants, where the net hooks protrude slightly from the profiles. 
O as in oval profiles 
The most common profiles for posts and crossbars of football goals are oval profiles measuring 100 x 120 mm. On the other hand, the square profile 80 x 80 mm is also very popular for recreational goals and mini goals, especially if a form-fit closure is required for the barrier systems of soccer courts! Oval profiles are often used for fully welded, mobile goals as well as for screwed competition goals in ground sockets.  
P as in PROTECTOR 
The type designation PROTECTOR is used for all tilt protected football goals from artec® Sportgeräte and indicates to our customers whether the goals are already equipped with a tilt protection ex works! Goals of the type PROTECTOR minimise the liability risks for coaches and club officials and, above all, ensure the safety of the players!  In 2017, for example, the city of Cologne equipped more than 500 goals in the entire city area with the artec® PROTECTOR anti-tilt device! 
From Q to U
Quality scores the goal!
Q as in Quality 
The quality of football goals is a very important criterion when it comes to the purchase of football goals. It is not unusual for buyers of football goals to pay attention not to quality, but rather to price! But that can quickly take its toll: Anyone who does not pay attention to quality, quickly becomes a multiple buyer and, over time, invests more money than necessary.  Therefore, our advice: Buy proper goals of good quality directly from the manufacturer and avoid unnecessary detours via the trade! 
R as in "ram home" 
In colloquial German football goals are often referred to as "frame": "You missed the frame again!" In principle, this refers only to the shape of the goals, which is reminiscent of a frame. Therefore, it's best if you just "ram home" and score the goal within the "frame". Then you escape the mockery of your teammates and your opponent and at the end you might even be the celebrated hero! 
S as in Stability 
It is essential to avoid the tilting of goals! Many coaches, supervisors and active players (especially children and teenagers) are not aware of the potential danger posed by mobile, unsecured goals. For this reason, it is always important to inform everyone about potential dangers and liability risks wherever unsecured mobile football goals are used, so that further accidents can be safely avoided! 
T as in tension rods 
Tension rods can be found in almost all stadiums at the competition goals installed there. In the meantime, however, many goals on amateur football fields also have tension rods as standard. The tension rods are the posts located behind the goal, which stretch the goal net upwards and backwards. Usually goals with tension rods have a net depth of 2.0 x 2.0 m (top/bottom), so that the optical impression at a successfully scored goal appears very impressive! 
U as in use of goal nets 
What would football goals be without goal nets? We all know that it is possible to score without goal nets, but exhaustingly retrieving the ball is not much fun in the long run!  This is why goal nets are indispensable for professional uses. And goal nets are available in almost all colours, sizes, net depths, mesh positions and strengths. Even the imprint of the club logo or the company logo of a sponsor for advertising purposes is possible! 
From V to Z
Fully welded and proven over many years!
V as in victorious (competition goals) 
The term competition goal is mainly used to describe senior goals measuring 7.32 x 2.44 metres. Competition goals are thus the football goals installed on the baseline in the 5-metre room (mostly in ground sockets)! 
W as in welding 
When it comes to the stability, durability and resilience of football goals, there is no way around fully welded football goals. Screwed goals should only be used if the conditions do not permit fully welded goals (e.g. due to spatial constriction). With screwed goals, it should always be remembered that even the best bolted joint will never hold as well as a professionally produced weld seam. For this reason, the fully welded goals are our clear purchase recommendation, especially for mobile goals that are exposed to much higher strains due to frequent transport! 
X as in proven x-fold 
Even with football goals, there is nothing like longstanding references that have proven themselves x times over. So take a look at the pitches and sports facilities to note which football goals are on the facilities and what they look like after years of use. Have references of the manufacturers shown to you so that you can find products that have proven themselves x times over. Then you are on the right side as a buyer! 
Y as in YNWA 
The football anthem "You'll never walk alone", which unites all the football stadiums in the world, also applies to the purchase of your new football goals. In a figurative sense, this means that you don't walk your way alone as a customer if you have found the right manufacturer for your football goals, who ideally combines the following services under one roof: In-house construction and production of the football goals, certified goals according to DIN/EN 748 as well as their own supply chain with downstream assembly and installation service. If you take these points in your selection into consideration, you are always well advised! 
Z as in "last but not least" (accessories) 
A point not to be neglected: Accessories for football goals of all kinds! These include, for example, all types of ground sockets, net securing systems, base frames, protective sleeves for posts, goal nets, chain weights, anti-tilt systems, single wheels, adapters and ground anchors, pegs and ground screws. If you are with the right supplier, you will also get all accessories directly from one provider!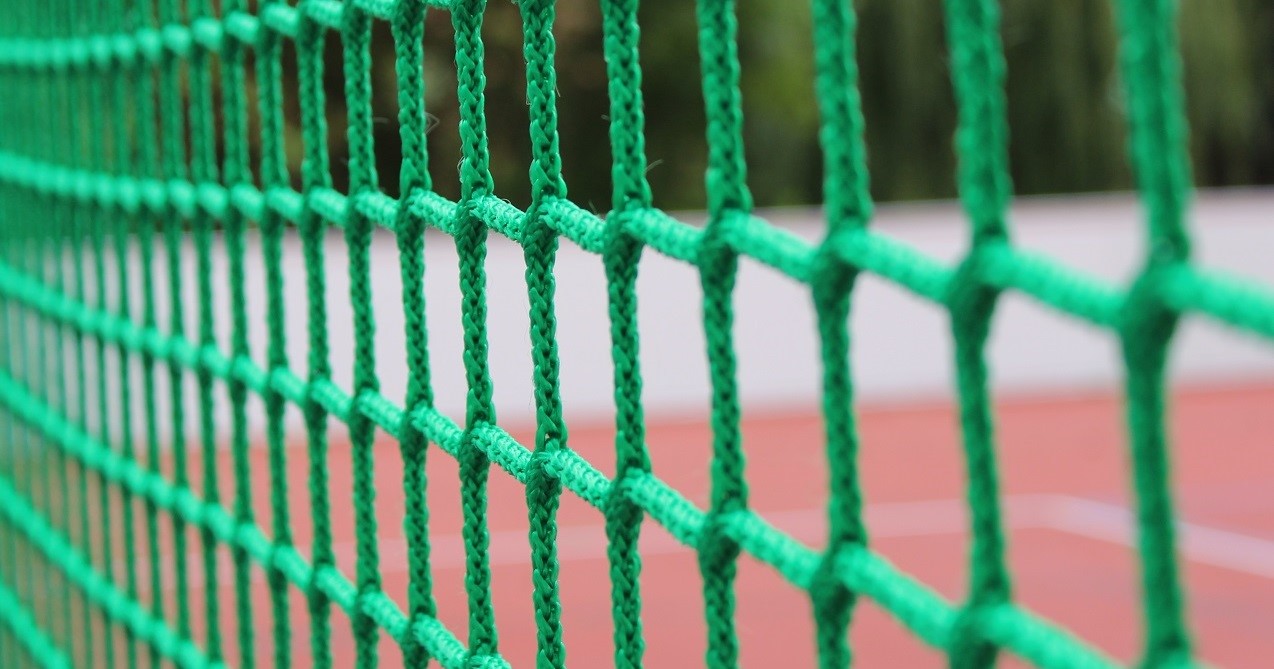 ---
Buy football goals from the professional
At artec® Sportgeräte you buy professional goals of all kinds directly from the manufacturer. As a customer you can save yourself the detour via the trade and buy directly at the source. And all this with competent, professional advice. Our experts are happy to assist you under the telephone number +49 (0)5422 9470-0 or by email info@artec-sportgeraete.de. We look forward to hearing from you to discuss your next football goals. 
For further information on our products, services and activities, please have a look at the following pages and articles: