Professional goals with TÜV certificates
directly from the manufacturer
Let's be honest, we've all been there: When it comes to goals, no matter if soccer, training, junior or mini goals, soccer players only have one thing on their mind: To score! A soccer player is fully concentrated on shooting the ball between the posts and be successful for their team. As a manufacturer, however, this perspective changes. Whilst the players' mind is trained on the front side of the goals, the expert rather focusses on the back side. Because that's where technology and quality of a goal is discerned! And this is exactly what this article is about – the expert's regard for soccer goals of all kinds!
In our online shop you will find further details to our training soccer goals:
Technology of Soccer Goals
What's important are the details!
Time and again we hear in discussions that "A soccer goal is just like any other soccer goal!" Well, regarding dimensions this might be true, but that's where the similarities come to an end quite quickly. Because a closer look at the goals suggests that there are many differences in the quality of a goal or to put it more colloquial: "This is where the wheat is separated from the chaff"! The trained eye of the expert focusses on the following parameters to assess the quality of the goals:
The quality of the deployed aluminium profiles especially in respect to the material thickness, is an essential quality feature of the goals. In the market there are profile strengths between 1,8 mm and 3 mm for goal posts and cross bar, and even up to 6 mm for base frames (German military standard).
Type of net suspension: On the one hand, this is about the stability and strength of the net suspension, and on the other, about the secure hold of the nets in the fastening. But also parameters such as the safety of the players and the net-preserving fastening (with little net wearing) are important.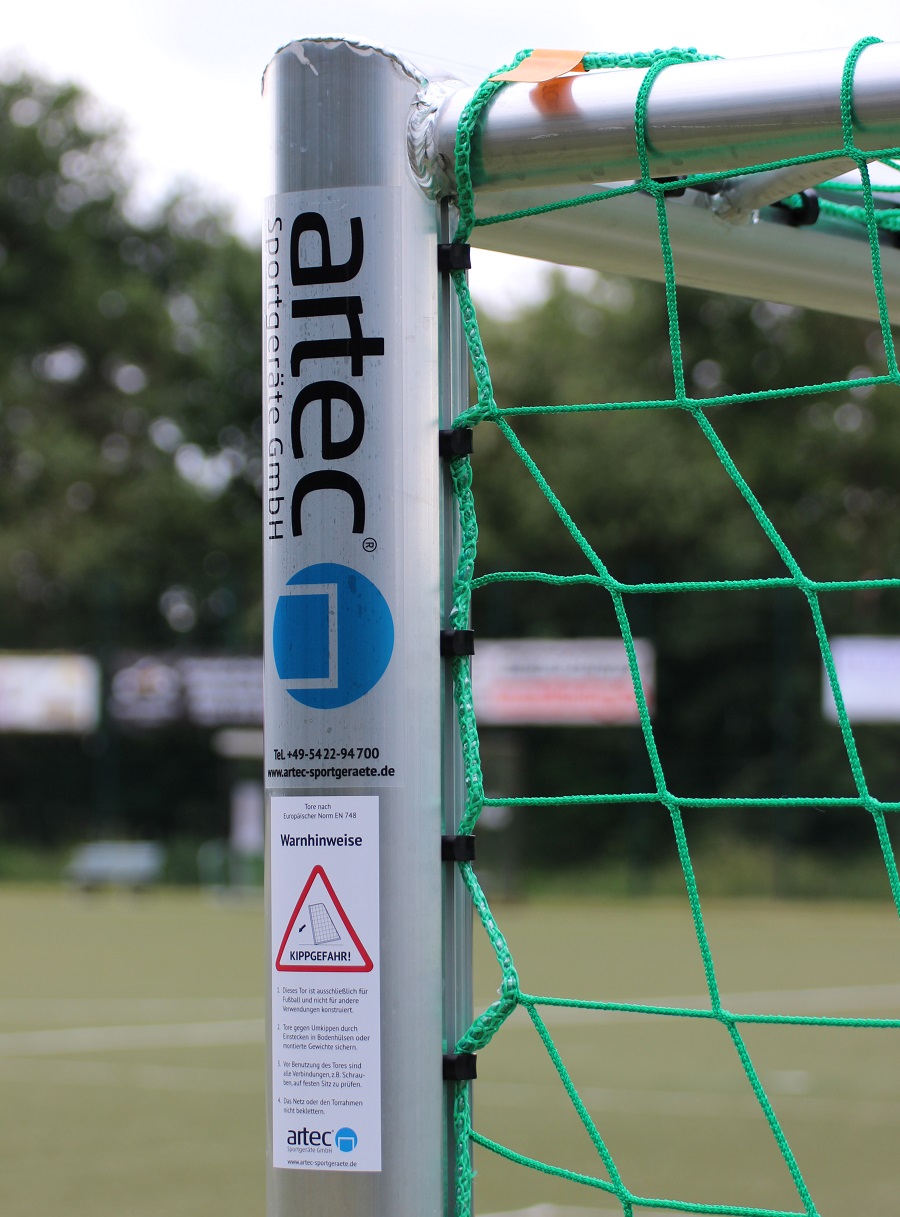 The processing of the weld seams: This is an important parameter, in particular for mobile goals. The quality of the weld seams in connection with the material strength is crucial for the durability of the mobile goals. Therefore, our advice: do not to safe money in this respect, otherwise you run the risk of buying twice!
The construction of the goals: In the market there are goals with different reinforcing elements. In this respect, make sure that appropriate reinforcements are applied to the sensitive parts of the goals. This strengthens the overall structure and has a positive effect on the durability!
For mobile goals with wheels the applied transport casters are an important quality feature. Are the casters sturdy and can be used on all flooring? Plus: How many wheels are attached to the goal? Is it only two or four wheels? This makes a big difference in the handling on the field. Try it!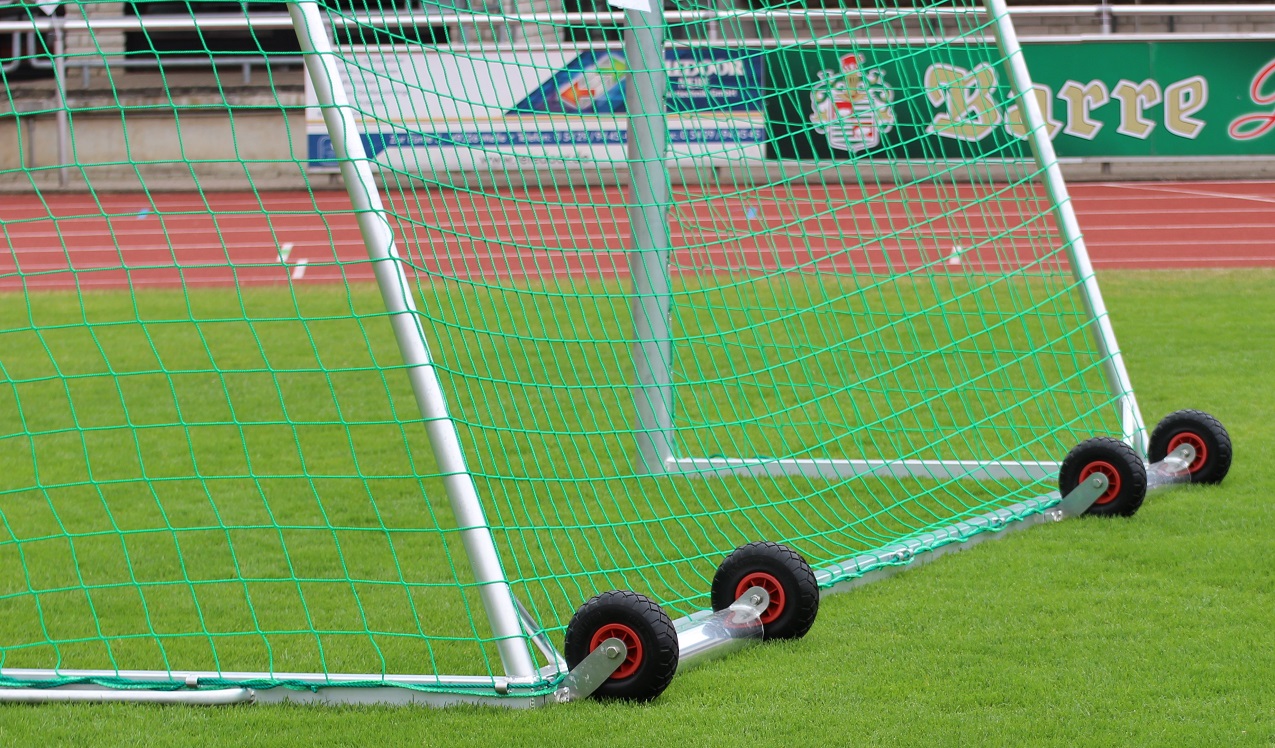 Do the goals have additional features such as carrying handles or loops for the net attachment systems?
Keyword anti-tilting device: Are the goals equipped with firmly mounted counterweights or do the goals, for example, have a sand filling to keep them from tilting? Although the sand filled goals are cheaper, often they are not filled with the appropriate sand…, as experience sadly has shown repeatedly! Our tip: Having in mind potential liability issues, this is not a feature where saving money is advisable.
Subject safety: Are the goals tested for safety and have, for example, corresponding TÜV certificates (German Association for Technical Inspection)? Have a look around on soccer grounds. At a closer look you will find goals which show, for example protruding parts for the mounting of counter weights…
Two Persuasive Product Lines
Premium and easytec
We offer the fully welded aluminium soccer goals in two different product lines: The Premium models have profiles with our integrated net suspension which guarantee a very net-preserving net suspension as well as a firm hold of the net thanks to double deburring. However, the cost-optimised easytec models have very flat and stable safety net hooks for the net suspension and convince with their exceptional price-performance ratio in connection with firm hold and high safety for the players at the same time! Our mobile training and junior goals are generally equipped with carrying handles and welded-on loops on the base frame for the ideal use of net attachement systems.
Our goals are produced based on DIN EN 748 and, of course, have all required TÜV certificates which guarantee the functional and safety requirements. In this regard, we'd like to mention in particular our anti-tilting device which we also offer as retrofit equipment for goals of other manufacturers. In 2017, for example, the City of Cologne has retrofitted more than 500 goals in the entire urban area with artec counterweights!
High Product Quality
and competent advice
By using first-grade aluminium profiles in combination with state-of-the-art production procedures, we constantly guarantee an exceptional high quality of our goals. The soccer goals are designed on the highest technical level and solely produced at our company site in Melle. With this, in addition to the continuous development of the products, we always ensure a very high product quality due to our internal quality control. Our goals are repeatedly reinforced at different points, thus achieving a very high stability! Our products have a high durability so the joy of fun and games with a soccer goal from artec Sportgeräte will persist for a long time! Of course, we also have the necessary equipment for our customers in store. This includes all popular goal nets, ground sockets in different designs, transport trolleys, post cuffs, adapters, net attachment and more.
For soccer goals the technology is often in the details, therefore our customers are pleased to use our supporting and advisory services to benefit from our extensive know-how. Many customers already benefitted from our advice to eventually purchase the perfect product for their respective requirements!
Aluminium Goals of all Types
Soccer goals, training goals, junior goals, mini goals
Whether as standard edition or as special design, you receive every type of soccer goal directly from the manufacturer. With us, you therefore save yourself the detour via the retail market and buy directly ex work, including competent advice! Our portfolio includes tournament soccer goals, training, junior, mini and recreational goals – in a nutshell, everything the footballer's heart desires! For almost 30 years, we have been constructing and producing our goals on the highest technical level and are therefore known as quality leader in the market. Our products can be found in many stadiums and sports facilities throughout the world and, in particular stand out by durability and high safety standards. artec Sportgeräte is therefore the right choice if you are looking for the right goal for your sports grounds, recreational soccer grounds or for your own garden. With our widespread array of products, from tournament to training, there is nothing left to be wished for as we can offer a comprehensive portfolio for the respective requirements. And in case of special requests, of course we are pleased to be of assistance to our customers to also realise new developments or special designs.
If you are interested, we are looking forward to your inquiry for your soccer goals. Our technically experienced and competent team is pleased to assist you at telephone +49 05422 9470-0 or by email at info@artec-sportgeraete.de. See for yourself!
For more information about our products, services and activities please also see the following links and articles: