Buying sports equipment made simple. Today we would like to give you 11 reasons why, as customer of artec® Sportgeräte, you are in the best hands and how you can benefit from our services and products:
You can build a football goal by simply placing two jackets on the ground in a certain distance from each other. Just like we did when we were kids. Just like that, you can purchase sports equipment by going out and hastily start buying…! This, however, makes little sense as there are so many differences to bear in mind. We want to help you to buy sports equipment which perfectly suits your daily use, and which you can benefit from in the long run!
Buying sports equipment
11 good reasons for artec
®

Sportgeräte

With our high quality standards, for the past 25 years, we have been successfully producing sports equipment for our customers. In addition to our high quality standards, naturally, the highest level of safety as well as simple and quick handling of the equipment is of great importance to us. Thus, joy and success with the sports equipment can be our customers' main focus of attention!

Please see below 11 good reasons to buy from artec® Sportgeräte:

1. Quality
Sports equipment with best possible long-life cycle!
From the foundation of the company to this day, product quality ranks first at artec®. Hereby we have established ourselves as leading player in the sector of sports equipment. Whether in Germany or abroad, the name artec® Sportgeräte is associated with highest product quality. Our customers appreciate the longevity as well as the well-engineered technical solutions of our products. Hereof our customers have a long-term and sustainable benefit.
Buy sports equipment with quality standards – we are the perfect choice!
2. Price & Service
Buy sports equipment at a fair price!
Of course, the quality of our sports equipment demands a price which not always is the lowest price in the market. Our aim is, however, that you buy sports equipment at the best possible price-performance ratio. And the high product quality of our sports equipment guarantees longevity so that early replacement or repairing of the equipment are prevented. Anyone who calculates properly and also factors in aspects such as quality, longevity and well-engineered technology into the purchase of sports equipment cannot get by artec® Sportgeräte! And anyone who still likes to save some money but at the same time puts great importance to excellent quality, can purchase from our new easytec product line which, in addition to our well-proven premium product line of many years, offers our customers cost optimised products. In a perfect manner the sports equipment of our easytec product line combines an advantageous price structure with our well-known quality standards and therefore present an attractive package for price-conscious customers!
Buy sports equipment from artec® at any time at a fair price!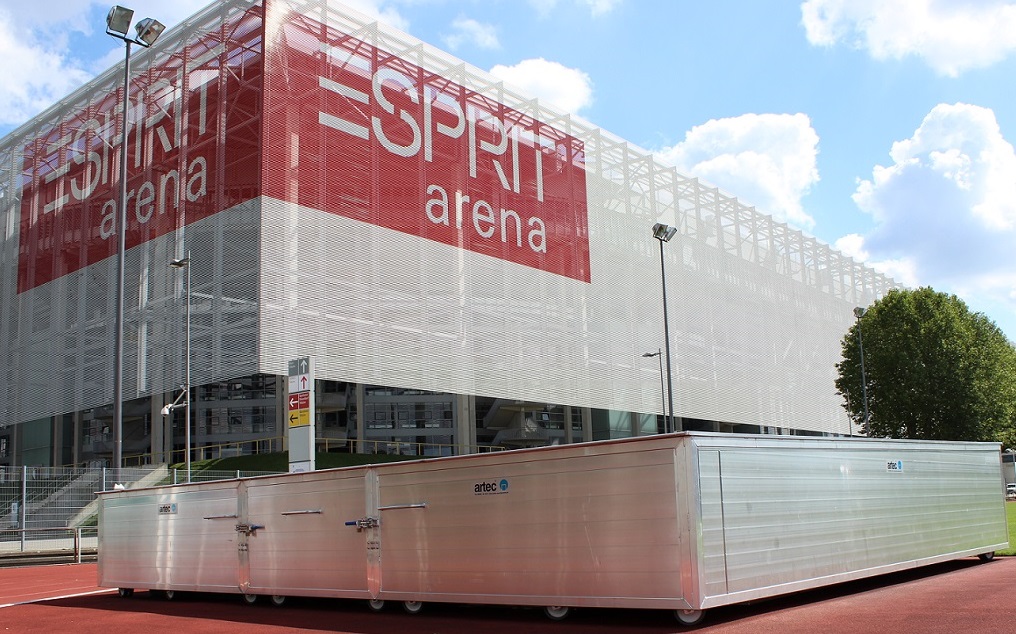 3. Advisory service
Sports equipment & benefit from competent advice!
The high quality of the products is developed by artec®'s technically experienced and highly motivated team and ensured in the manual production at the company site in Melle. Our employees continuously enhance their knowledge and skills in order to meet the challenges of today's as well as tomorrow's market. In order to guarantee operational safety of sports facilities we offer our customers, for example, the competent yearly general inspection of outdoor sports facilities. Once a year, our certified employees inspect the sports facility as well as the sports equipment of our customers according to the respective engineering standards, and issue appropriate inspection reports. Therefore, at all times, the customers of artec® Sportgeräte get state-of-the-art products of highest technical quality and a high level on safety!
Competence & advisory service – buy sports equipment with a sharp mind!
4. Customer satisfaction
State-of-the-art production processes ensure quality!
In order to meet our own high quality standard, we solely produce our sports equipment with precision machines (such as with laser technology) at our company site in Melle. Hereby we thoroughly control the production processes as well as the incoming goods and exercise internal product approval before delivery. Therefore, customer complaints for our sports equipment can almost entirely be precluded for the benefit of our customers. Not least this is how we are able to positively influence the satisfaction of our customers considerably!
Buy sports equipment from artec® – a decision for your own satisfaction!
5. Proximity to the customer
Always in the focus of our attention – our customer!
Our focus is always on the customer with his requirements and he receives everything "from one source". Our competent employees are always at your disposal and ready to help – from comprehensive advice during the stage of planning of a sports facility up to the assistance of the assembly of the sports equipment on site. With our effective project handling team, we guarantee an ideal completion of the project in a pleasing and friendly manner which is typical for artec®. For the ideal customer service our employees have modern computer, telecommunication and server equipment as well as the latest CAD-Software at their disposal, so even special requests and custom-made products can be provided shortly.
Buy sports equipment from artec® – experience active proximity to the customer!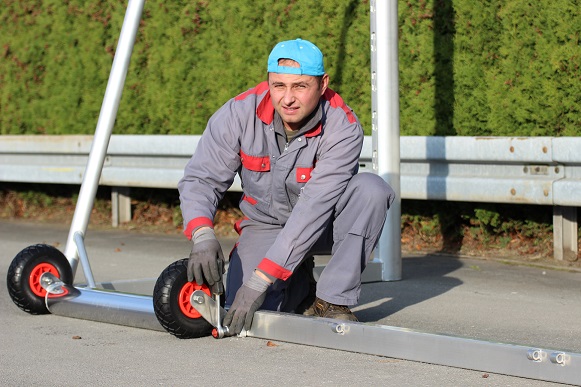 6. Service
Flexible & quickly available!
Customer-oriented service is our passion! No matter if in the course of a sales conversation, the project execution or the agreeing on delivery dates, our employees are always quick on hand for help and advice. On customer request, the sports equipment will be assembled by us on site, and we offer a yearly inspection and maintenance of the equipment. Our assembly teams are excellently trained and well attuned to each other, and with our own transport fleet we are very flexible in terms of delivery times and therefore swiftly at your service. That means short waiting and delivery times! And in order to always fulfil the customers' needs in an optimal way, we think in opportunities and solutions as well as in speed and flexibility. With this philosophy we set standards in terms of service and customer satisfaction. Therefore, our customer of today remains gladly our customer of tomorrow!
Buy sports equipment with top service!
7. Safety
Buy sports equipment with approved certificates!
The matter of safety is very crucial to us. It is very important to us that our customers buy safe and certified sports equipment. Whether for counterweights for soccer goals, the assembly of hammer throw cages or our basketball facilities: Our focus is always on the safety of the sports equipment for the protection of the athletes. Therefore, our products have all necessary certificates and approvals. For our track and field products we hold all current IAAF Certificates, so we are able to provide track and field equipment for all national and international athletics competitions. Our soccer goals meet all DIN regulations and are TÜV-certified (TÜV – German Association for Technical Inspection) providing soccer goals of artec® Sportgeräte with excellent safety standards. Of course, all other product segments such as volleyball facilities, basketball facilities, etc. have all necessary certificates and approvals so you are always on the safe side with sports equipment from artec® Sportgeräte!
Buy sports equipment from artec® – it's safe to say it's the right decision!
8. Product diversity
Buy sports equipment from our full range of products!
If you are looking to purchase sports equipment, artec® Sportgeräte offers you a comprehensive range of products which leaves nothing to be wished for. As one of the leading providers on the German market, artec® has a wide selection available of all popular sports equipment for in- and outdoors. From our widespread product range, you can buy the following sports equipment, for example:
Soccer goals / training goals / junior goals / mini goals / recreational goals / counterweights / team shelters
Hammer throw cages / take-off boards / high jump facilities / hurdles / water jump
Ball stop nets / barriers / elements for pitch barrier advertising / lattice fence
Basketball one-mast post / basketball two-mast post / basketball baskets
Volleyball posts / volleyball nets / playing field markings / beach volleyball covering
Handball goals / nets for handball goals / beach handball goals / accessories such as adapters
Hockey goals / nets for hockey goals / rebound boards / accessories such as corner flags
Ground sockets / ground anchors / ground pegs / accessories for ground assembly
and many more
In addition, you can buy more sports equipment which you can find in our product catalogue.
Buy sports equipment from artec® – top quality from our full range assortment!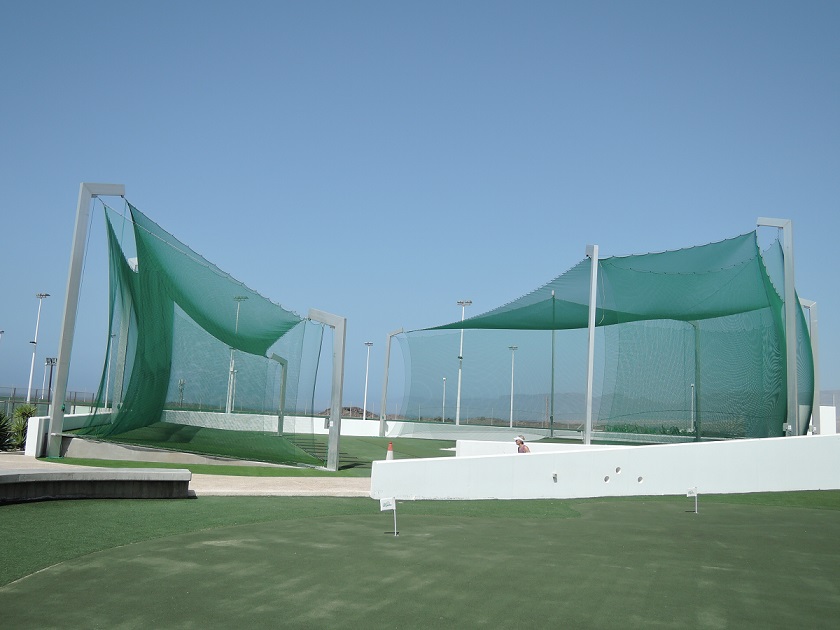 9. Short delivery times
Buy sports equipment quick & on time
Being quick and on time are our assets in the market. We convince at all times with short delivery times thanks to the optimal planning and use of our production capacities. But that's not all. Apart from the short delivery times we impress with punctuality and reliability when it comes to the scheduled delivery times. This strengthens and extends the trust of our customers. Our high reliability is a guarantor for stable business contacts to our customers!
Buy sports equipment – quick and reliable from the quality leader!
10. Experience
know-how ensures sustainability!
For more than 25 years, artec® Sportgeräte has been active in the market as manufacturer of high-quality sports equipment and can therefore resort to a vast background of experience. Our customers appreciate the combination of our own high quality standards, the well-engineered technical solutions as well as our experience of many years. Thereby our customers not only get sports equipment, but they also partake in our long-time and extensive know-how from 25 years! This know-how guarantees the future viability of artec® Sportgeräte, so we also will be there for our customers in the future with our well-established services.
So in the future as well, you will buy sports equipment from artec® Sportgeräte!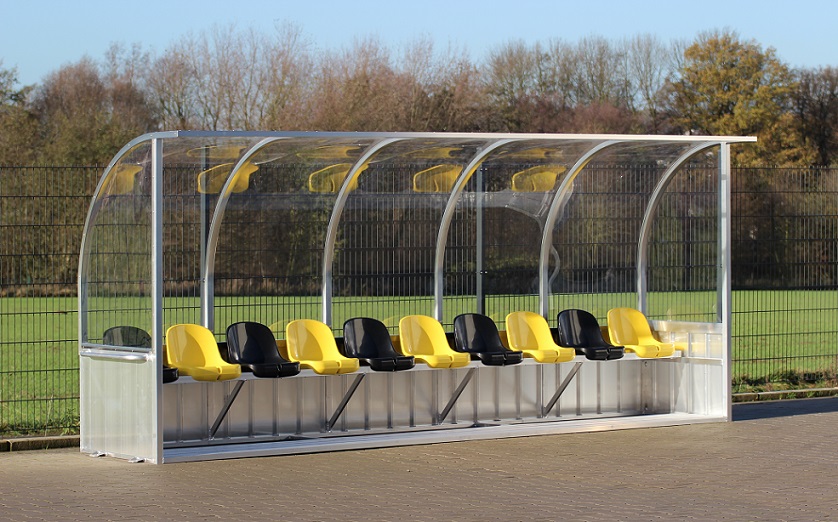 11. Innovation
Buy state-of-the-art sports equipment
Creative and continuous innovations is our demand, so our customers can buy sports equipment on the highest quality level. Hereby we understand the challenges of the market as an opportunity and take these as basis for new product developments. We constantly develop our sports equipment and consequently and continuously add to our programme for the benefit of our customers – such as, for example, our new product line easytec. In doing so, we are pleased to especially benefit from impulses from our customers in order to further optimise our sports equipment and develop individual technical customer solutions. With this integrated working method and the close cooperation with our customers we ensure the constant technical development on the highest level!
Buy innovative sports equipment – state-of-the-art from artec®!
Buy high-quality sports equipment at a fair price
artec® Sportgeräte – simple. unique. artec.
Now you know why artec® Sportgeräte sets standards in the market when it comes to quality and price! If you wish to buy sports equipment which offer you long-term joy, with artec® Sportgeräte you have come to the right place!
Did we spark your interest in sports equipment from artec® Sportgeräte? Then do not hesitate and send us your inquiry for your new sports equipment for your stadium or sports ground. Our team is pleased to assist you at telephone 05422 / 9470-0 or by email info@artec-sportgeraete.de.
If you wish to purchase sports equipment, have a look at further information about our products, services and activities at the following pages: