High-quality aluminium hockey goals
directly from the manufacturer
It is well-known that aluminium hockey goals of artec Sportgeräte are among the products in the market with the highest quality and highest durability. Our aluminium hockey goals are produced by us as German branded product at our company site in Melle. You will find further details on this in our online shop:
Top quality hockey goals
Hardwood core as a quality feature
For the production of our hockey goals we solely use high-quality aluminium profiles to achieve maximal stability. For our hockey goals the goal posts, the crossbar as well as the backboard profiles are completely furnished with a hardwood core filling. This considerably enhances the stability of our hockey goals so that damages caused by the hard hockey ball – as they often occur with unfilled hockey goals after a short time – can mostly be averted.
A further special feature of our hockey goals is the lining of the lower backboards. For the protection against damage we cover the lower backboards of the hockey goals alternatively with cast plastic coating or with artificial turf and an elastic layer. Hereby the artec hockey goals get a long-term protection against the high strain caused by the hard hockey ball, because the kinetic energy of the ball can be optimally absorbed and dampened. Thanks to the manual processing of the plastic coating in the lower backboard, a permanent and form-fit compound is created which shows significant advantages compared to, for example, glued alternatives. Due to thorough quality controls during the production of our hockey goals we guarantee at all times that our customers only receive hockey goals of the highest quality. Hereby we have established an excellent reputation in the market in the area of hockey goals.
Counterweights for hockey goals
Highest safety for players and maintenance staff
With regards to freestanding hockey goals the municipal accident insurances as well as the TÜV (German Association for Technical Inspection), amongst others, require appropriate measures against tilting of the goals. In light of this, artec offers of course respective technical solutions of tilt safety devices for hockey goals. Thanks to the above described full core filling of posts, crossbar and backboards, our hockey goals only need a relatively small counterweight to meet the safety requirements to the full extent. The protection against tilting for our hockey goals is absolutely reliably guaranteed by our solution with wheels and weights which have been well proven for many years. Of course, the counterweight can be retrofitted at any time so that already existing goals can still be safeguarded.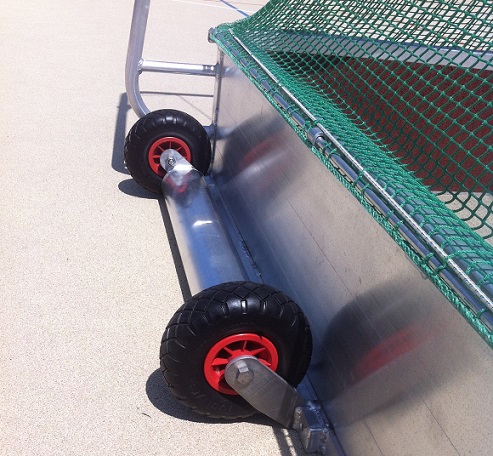 Integrated net suspension
for secure hold of the goal nets
We produce our hockey goals with our integrated net suspension system. This not only guarantees firm and secure hold of the goal nets but also ensures the highest possible safety for the players, as there are no external net attachments on the goal. Furthermore, the integrated net suspension system is deburred on both sides and therefore an optimal and very net-protecting suspension of the goal nets achieved.
Barrier and ball stop systems
for hockey fields
Apart from the hockey goals, circumferential barrier and ball stop systems are also important elements for hockey fields and included in our product portfolio of hockey equipment. Especially popular with our customers are our high-quality rebound boards made of plastic / aluminium or artificial turf / aluminium. They permanently prevent damages to the fence screen mats in the lower parts. As especially the fence constructions turn out to be a large investment when building up sports grounds, an optimal protection of the fences against the hits of the hard hockey ball is very important! Here the rebound boards of artec Sportgeräte are the perfect solution to guarantee the longevity of fence constructions. In addition to the rebound boards, of course, we also deliver ball stop systems and nets in all kinds of designs and models. Our ball stop systems can optionally be delivered with a manual hoisting device or to be hoisted comfortably by winches, thus leaving nothing left to be wished for by our customers.
High product quality
and competent advice
Our hockey goals are designed on the highest technical level and exclusively produced at our company site in Melle. By using state-of-the-art production procedures, we constantly guarantee an exceptional high quality of our products. Thanks to the continuing further development of our products we can ensure at any time that our customers receive a state-of-the-art product with an accordingly longevity. Our customers are also pleased to make use of our extensive supporting and advisory services to benefit from our know-how of many years and thus choosing the right product for the respective purposes!
With artec you save yourself the detour via the retail market: Here you buy directly ex works including competent technical advice! You will find our products all around the world in many stadiums and sports facilities. artec Sportgeräte therefore is the perfect choice if you are looking for appropriate hockey goals for your stadium or your sports grounds. With our products, from tournament to training, there is nothing left to be wished for as we can offer a comprehensive portfolio for the respective requirements. And in case you have special requests? No problem. Contact us so we can help you! Our team is pleased to assist you. You can contact our experts by telephone at +49 (0)5422 9470-0 or by email at info@artec-sportgeraete.de. See for yourself!
For more informations about our company, products, services and activities please also see the following links and articles: