High jump facility (IAAF) with slatted platform and wheel-away safety cover
High jump facility delivered to Walsrode
including slatted platform and wheel-away safety cover
We have just completed the delivery of a new high jump facility (IAAF certificated) together with slatted platform and wheel-away safety cover to Walsrode, Lower Saxonay. The high jump facility includes the high jump landing area "SILBER" with intermediate base including IAAF Certificate in the size of 6.0 x 4.0 m. A spike protection with sliding mesh fabric as well as an anti-wear mat are also integrated into this high jump landing area. The system consists of a hollow chamber system RG 23 with anti-slip undersurface. So that the high jump landing area is safely positioned, we have also delivered a high-quality aluminium slatted platform from our easytec product line. Our wheel-away safety cover made of aluminium profiles and consisting of two parts serves as optimal protection against weather conditions. We also thought of a storm protection. With safety belts the landing area is securely protected. The delivered high jump landing areas of course includes the corresponding high jump uprights. For this purpose, we have delivered our high-quality aluminium high jump uprights with IAAF Certificate. These are adjustable up to a height of 2.50 m (alternatively we can also deliver high jump uprights which can be adjusted up to 3.0 m). The facility is completed with high jump crossbars with telescopic crossbar lifter adjustable to five different heights. If you would like to learn more about our products in the segment of high jump facilities, please have a look around in our online shop respectively online catalogue for further information:
Apart from the high jump facility our complete scope of delivery to Walsrode included various further products which we would like to introduce in extracts below:
Aluminium / plastic take off board, triple purpose, red/white coated
No jump indicator IAAF red, routed on both sides
Plasticine for no jump indicators
Wooden templates for take off boards
Shot put toe boards made of specially hardened plastic with IAAF Certificate
Fastening beam for the adjustment of the shot put and discus circle for wheelchair users
Aluminium javelin throwing arc
Aluminium hammer and discus throw cages 5.50 m in sockets, safety net, hoisting device, sand bags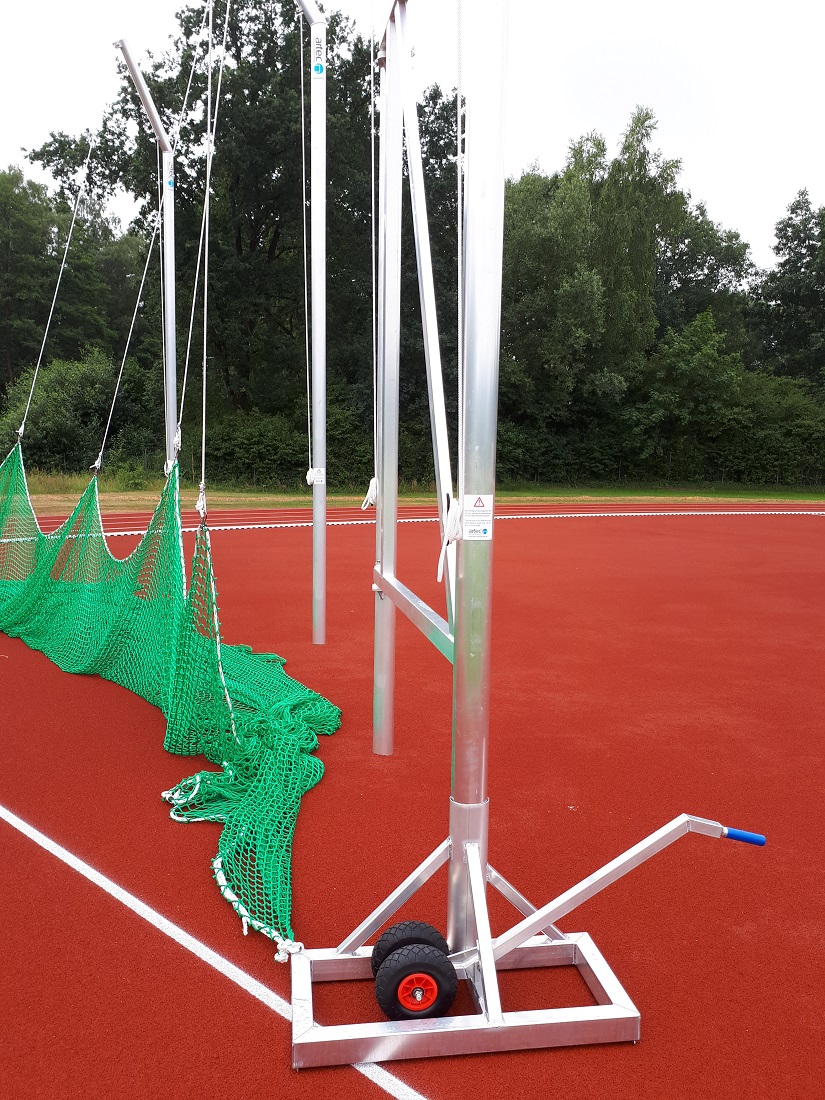 Beach volleyball multi-purpose training facility combined tennis and badminton
High jump landing area "SILBER" with intermediate base, IAAF Certificate, 600 x 400 x 70 cm, spike protection, hollow chamber system
Aluminium high jump uprights, adjustable up to 2.50 m, feet with castors
Aluminium slatted platform, easytec, 6.0 x 4.0 m
Safety belt for storm protection of high jump landing area
Telescopic crossbar lifter in five different heights
Aluminium slatted platform for high jump area
Aluminium wheel-away safety cover for high jump landing area 6.0 x 4.0 m

Junior goal PROTECTOR 5.00 x 2.00 m, integrated net suspension system, counter weights widthwise movable
Net attachment system ARENA for custom-fit sealing of the net cut-out and protection against removal or theft
Handball goals 3.0 x 2.0 m, red/white, including integrated net suspension system, net sheathed over the hoops
Basketball aluminium one-mast post, welded in one piece, depth 1.65 m
Protective pad for basketball one-mast post
Coplast backboard, dimension:1.80 x 1.05 m
Powder coated basketball ring with nylon net
Athletics equipment with IAAF Certificate
directly form the manufacturer artec Sportgeräte
From artec Sportgeräte you will receive the complete IAAF-certified athletics range directly from the manufacturer! We design and produce our products ourselves at our company site in Melle. So why put up with long trade channels when it's also possible to deal directly with the manufacturer? With this in mind, we are looking forward to impress you as our customer with quality, service and passion!
First class world of sports equipment
artec Sportgeräte is the perfect choice if you wish to purchase high-quality sports equipment directly from the manufacturer. If you are interested in our extensive athletics equipment or other products such as soccer goals, team shelters, basketball facilities etc., just have a look at our online shop, our product catalogue as well as our references. Or read our blog entries which will provide you with further information and backgrounds on our products. Of course, we are also happy to help you in person. Our competent project team is pleased to assist at telephone +49 (0)5422 9470-0 or by email info@artec-sportgeraete.de.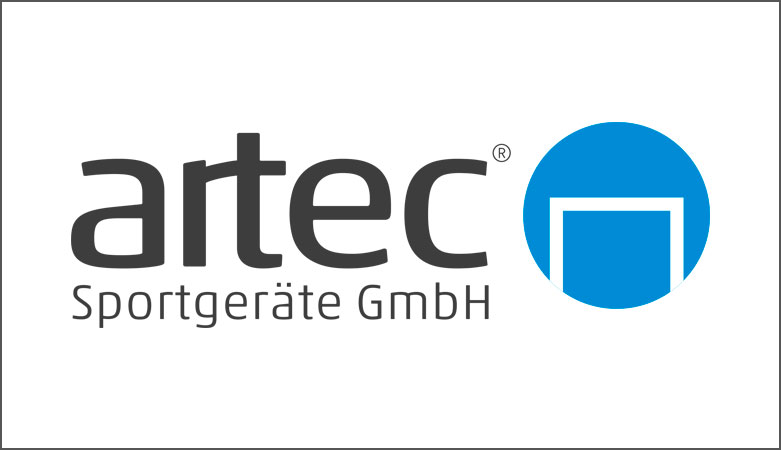 artec Sportgeräte – smart. unique. artec.
Get in touch to artec!
Please let us know your questions and ask for your individual offer!