Soccer cages from artec
®
with goals and advertising barrier elements
In our comprehensive assortment our customers will find high-quality soccer cages with goals to be used indoors or outdoors. Our courts provide multiple possibilities of use and are available as weather proof constructions in many different sizes and designs. This means street soccer at its best – whether young or old, one on one or team against team. The small playing field consisting of barrier elements in the lower part and equipped with ball stop nets (or ball stop fences) in the upper parts, gives the impression of a cage which constantly keeps the ball in the (fast) game, played on two goals opposite one another.
With artec® soccer cages our customers are confronted with no limits whatsoever, neither indoors nor outdoors. Apart from our standard products, of course, we also offer special designs so nothing is left to be desired. The playing fields can be combined with goals of all kinds. Please have a look at our online shop for more details:
Barriers made of aluminium or steel
in stationary or mobile design
The soccer cages from artec® Sportgeräte provide maximum playing fun on minimal installation space and stand for highest quality and an exceedingly sturdy design. Our customers receive from us playing fields built with high-quality aluminium or steel profiles which are used for the permanent fixing of the pitch barrier system. With regards to the barrier systems our customers can choose a stationary system or, if they prefer, a mobile system which can be used at different locations. In general, our customers can choose between the following barrier systems:
transparent barrier system with glass barrier elements
standard barrier system made of Coplast elements
barrier system made of sandwich panels
Many features
and possible uses
Our soccer cages are solely equipped with high-quality components so that apart from excellent bounce characteristics, our barrier systems also show, for example, reduced noise emissions allowing the playing fields also to be installed in the vicinity of residential areas. The excellent bounce characteristics of the ball allows arduous high-speed games with maximal fun! The features of our soccer cages are composed of different characteristics which we would like introduce below:
soccer cages in standard sizes as well as special sizes on customers' request (individually produced)
mobile soccer cages (e.g. for indoor tournaments / events / exhibitions / etc.)
stationary soccer cages (e.g. for soccer halls, etc.)
square barrier systems
polygonal barrier systems
round or oval barrier system
optimal advertising options on the barrier systems
courts with ball stop nets (also available above the playing field)
courts with ball stop fences
equipped with high-quality artec

®

goals in different designs (mini goals, recreational goals, etc.)
high-quality doors or gates with mechanic interlocking (also in self-locking design)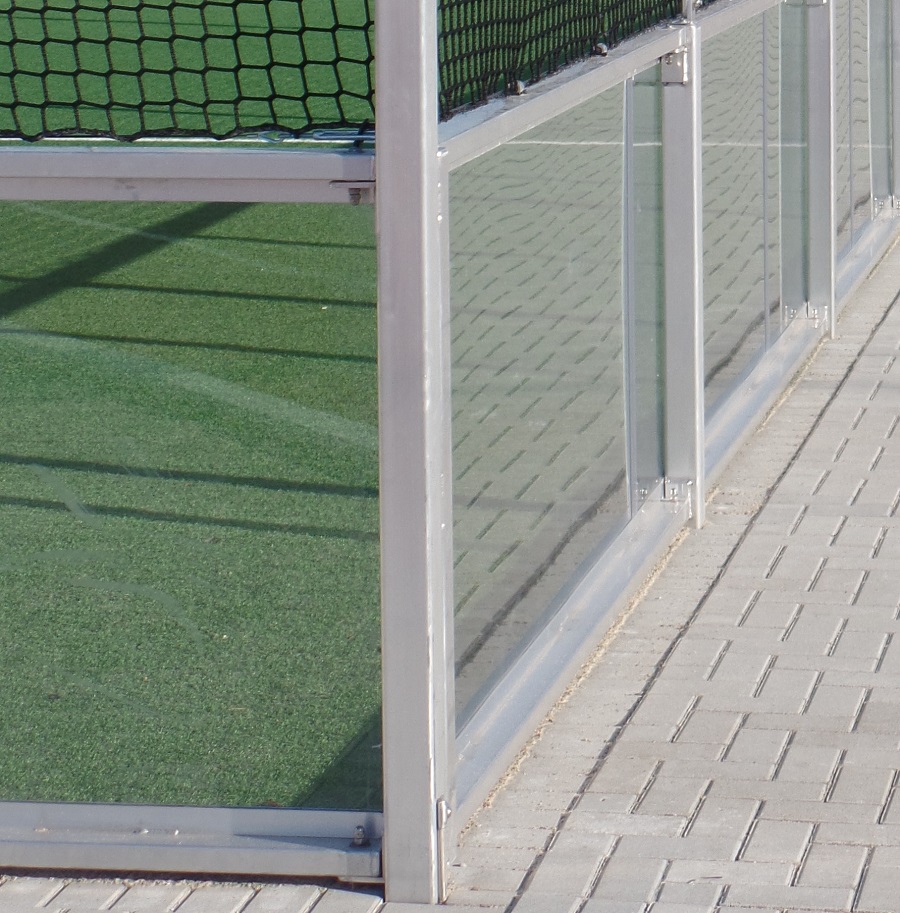 The soccer cages from artec® Sportgeräte are perfectly suited for a multitude of sites as well as many different events. Our customers use our courts as optimal training and fun facilities for the following occasions and sites:
city and street festivals
public viewing events and fan parks
company parties
summer parties, youth and children's parties
promotion events
exhibitions and hotels
school yards and playgrounds
amusement parks
public places and pedestrian areas
camping grounds and resorts
soccer halls
on company sites for corporate sports
and many more…
Soccer cages for the indoors & outdoors
Products from in-house design and production
A big advantage of our soccer cages is the easy and quick assembly on all prevalent subfloors (e.g. natural grass, concrete, asphalt, etc.) as well as the simple transport. At the same time, the individual elements can be compactly stored so that even at times with no events only little space is needed. All these advantages provide organisers and investors with optimal conditions and above all with a lot of flexibility. These are deciding advantages for the right purchase choice!
If you are interested in our soccer cages, don't hesitate to contact our technically experienced staff so we can assist you! Our team is please to advise you anytime. You can contact our experts at telephone +49 (0)5422 9470-0 or by email at info@artec-sportgeraete.de. Have a look yourself and make up your own opinion. Our products are designed and produced at the highest technical level at our company site in Melle. Thanks to our quality controls we guarantee our customers at all times a very high product quality: simple. unique. artec.
For further information about our products, services and activities please also have a look at the following links and articles: