High-quality soccercourts
artec De Luxe to be delivered 3 times to Frankfurt
Once again, our soccercourts artec De Luxe with transparent glass in the barrier system are sent to Frankfurt. We have been commissioned with two new orders to deliver three further soccercourts artec De Luxe to Frankfurt. On this background we are very pleased, of course, that our premium soccercourts artec De Luxe is so popular in the market that we are asked to deliver these playing fields time and again! As we are a manufacturer and design, produce and assemble our soccercourts artec de Luxe ourselves, we are able to offer our customers courts in many different technical variations as well as in special designs. The advantage for our customers is obvious – they buy directly from the manufacturer without detour over the retail market and benefit from top prices. If you are interested in artec soccercourts please have a look directly in our online shop for further information and details: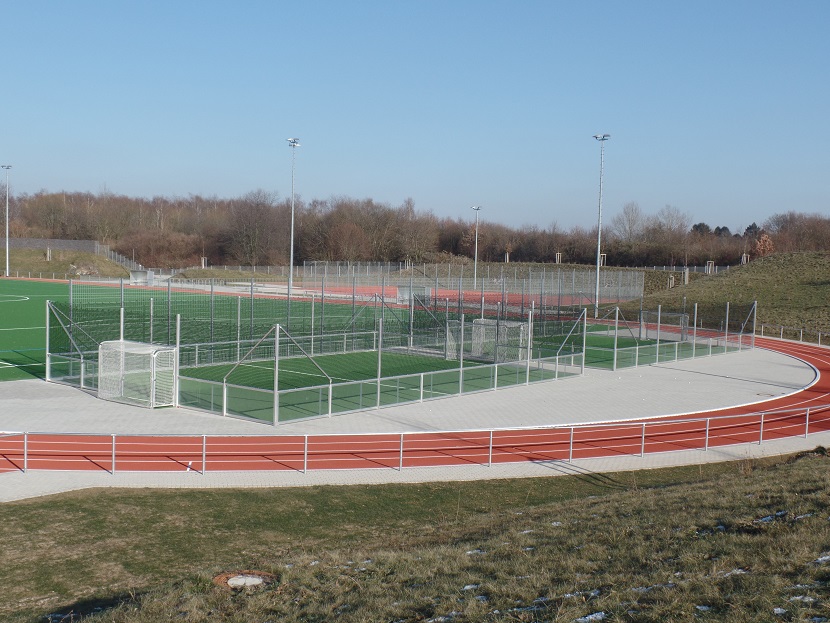 Soccercourts artec De Luxe
with glass barrier elements
Our soccercourts artec De Luxe are equipped with high-quality components only and therefore stand out due to an exceeding longevity. Furthermore, the glass barrier elements feature optimal bounce characteristics and reduced noise emissions allowing a soccercourt artec De Luxe also to be installed in the vicinity of residential areas. The features of the soccercourts artec De Luxe are as follows:
High-grade quality aluminium profiles for the rear construction
Post made of aluminium special aluminium profiles 80 x 80 mm
Barrier height approx. 1.0 m
Very sturdy transparent glass barrier elements
Circumferential polypropylene ball stop nets (2 metres above the barrier), mesh size 45 mm
Recreational goals 3.0 x 2.0 m, fully welded with side entrance/exit
All assembly material such as bolting and retaining constructions
Assembly carried out by artec employees (in ground sockets to be provided by the customers)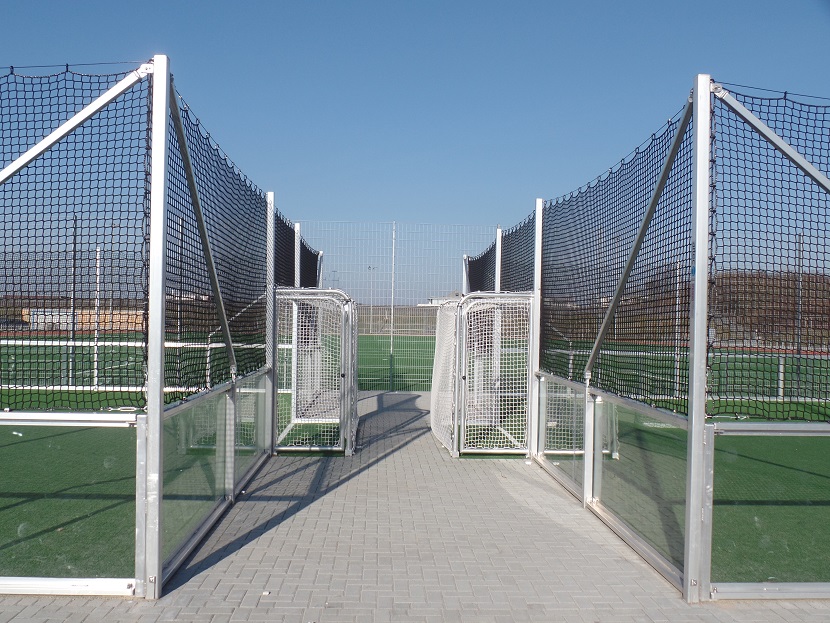 Apart from our soccercourts artec De Luxe we also offer our customers further mini playing fields. These courts differ especially in terms of the respective design of the barrier system:
Barrier systems made of Coplast with aluminium rear construction
Mobile barrier system made of Coplast with aluminium rear construction
Barrier system with steel rear construction with sandwich panels
Mobile barrier system with steel rear construction with sandwich panels
Mobile playing fields / mobile barrier systems for indoor tournaments / events / exhibitions etc.
Barrier systems with break-proof polyethylene elements and circumferential kick protection (for roller hockey)
Barrier systems with "chamfered corners" and break-proof polyethylene elements
Individual production of the playing fields in all possible sizes
The soccercourts can be delivered by artec with the following features:
Designed as multi-functional playing fields (basketball, hockey, volleyball, tennis, badminton)
Recreational goals with open or closed rear base frame
Recreational goals with basketball attachments in different designs
Recreational goals (Size 3,0 x 2,0 m or 5,0 x 2,0 m) with side entrances on request
Recreational goals in special designs (e.g. individual goal depths etc.)
Ball stop nets with various mesh sizes (circumferential or at the front ends)
Ball stop nets above the field (e.g. if installed on multi-storey buildings)
Ball stop fences made of stable wire mesh
The above mentioned technical designs can be combined with each other resulting in a multitude of different variations of playing fields which we can provide. Furthermore, our assembly teams provide expert assembly so that our customers receive the courts from artec fit to play.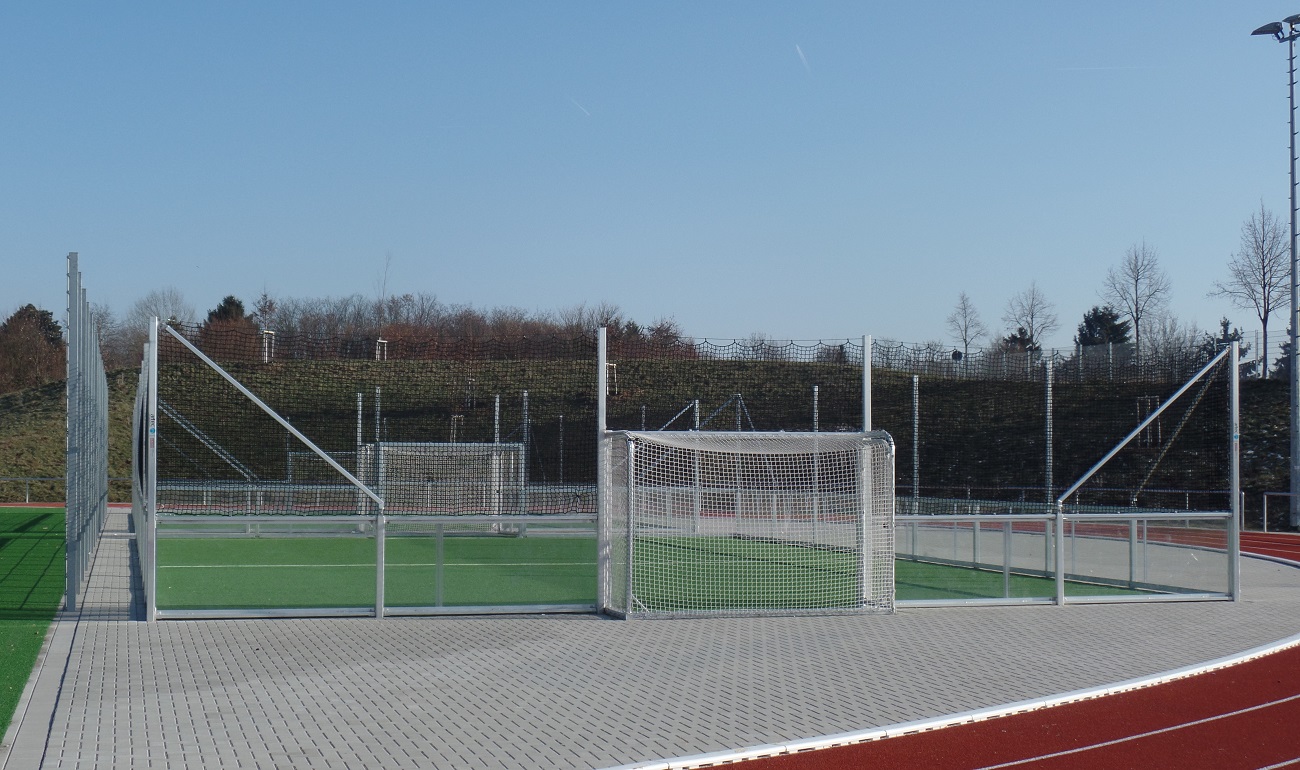 Design and production
Barrier systems with transparent glass
Our mini playing fields are constructed on the highest technical level and with great care solely at our company site in Melle. By using state-of-the-art production procedures, we continuously guarantee an exceedingly high product quality. Thanks to the constant further development of our products, our customers receive at all times state-of-the-art products with a corresponding longevity. Also, our customers are pleased to make use of our extensive supporting and advisory services to benefit from our know-how and therefore choosing the right product for the respective purposes!
Buy mini playing fields from the manufacturer
including competent advice and assembly service
With artec you save yourself the detour via the retail market: With us you buy directly ex works including competent technical advice! You will find our products all around the world in many stadiums and sports facilities. artec Sportgeräte therefore is the perfect choice if you are looking for fitting soccercourts. And in case you have special requests? No problem. Contact us so we can help you! Of course, our team is pleased to assist you. You can contact our experts at telephone +49 (0)5422 9470-0 or by email at info@artec-sportgeraete.de. See for yourself! For more information about our high-quality products, services and activities please also see the following articles: