Ball stop net for sports facilities
Advantages of ball stop nets
The use of a ball stop net on sports facilities offers advantages for both players and spectators. Games can be continued even if the shot is missed. The balls do not have to be sought outside the field, but remain inside. This means that the game can be resumed without long delays.
At the same time, the ball stop net protects spectators who would otherwise be in danger of being hit by balls. Especially the hard pucks in hockey or golf balls can lead to more severe injuries. Ball stop nets are therefore not only suitable for large stadiums. They can also be used on conventional sports fields, football grounds or schoolyards.
The optimal ball stop for every sport
In football, ball stop nets are used both at amateur level and in professional leagues. Here, the nets all have similar characteristics: to prevent the ball from rebounding with the same force, the safety nets are relatively loosely tensioned. This reliably slows down the ball and it can be returned into the game immediately. This ensures that the game runs smoothly.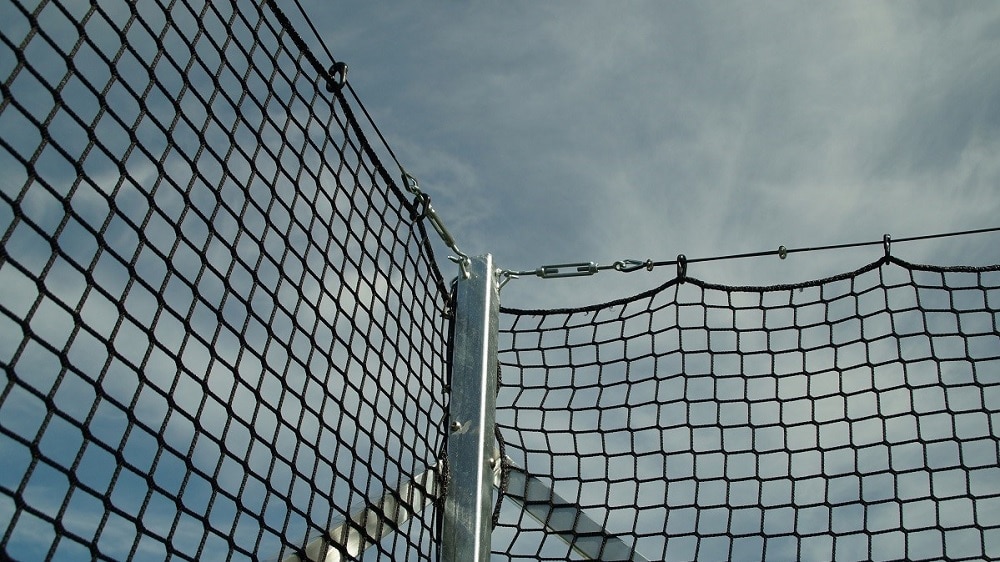 In football, generally a net with a mesh size of 120 mm is chosen. On the one hand, this ensures that the ball is caught and on the other hand, the spectators still have a good view of the playing field. Our nets are made of knotless and high-strength polypropylene. They are weatherproof and therefore suitable for outdoor use. The thickness of the material is chosen according to the respective requirements and usually a thickness of 3 mm or 4 mm is recommended.
A hockey field or a tennis court naturally requires a smaller mesh size due to the smaller ball size. In this case a mesh size of 45 mm is optimal. The mesh size of a ball stop net in golf is usually 20 mm.
Design of artec® ball stop systems
The ball stop systems from artec® include ball stop posts, the ball stop net and other parts for net attachment such as steel wire ropes, thimbles, turnbuckles as well as nylon rings.
The posts are available in various designs:
square profile 80 x 80 mm: 3 m and 4 m above ground level
oval profile 100 x 120 mm: 4 m to 6 m above ground level
oval profile 100 x 120 mm with a wall thickness increasing from 4 to 6 mm: 5 m to 8 m above ground level
sail mast profile 142 x 98 mm: 5 m to 8 m above ground level
The ball stop posts are mounted in appropriate ground sockets. This ensures a firm stand. Cross bars with a profile of 80 x 60 mm are used for additional stabilisation of the construction.
Depending on the intended use, ball stop nets can have different mesh sizes. artec® has the following designs in its product range:
20 x 20 mm
45 x 45 mm
100 x 100 mm
120 x 120 mm
The safety nets are available in all common colours and also bicoloured. In general, however, green or black ball nets are used.
Additional equipment
We can equip your ball stop system with a hoisting device. This allows the nets to be lifted and lowered easily. In the premium version, we also supply the ball stop nets with additional cantilevers and freely suspended nets, so that an extraordinarily even hanging of the nets is guaranteed.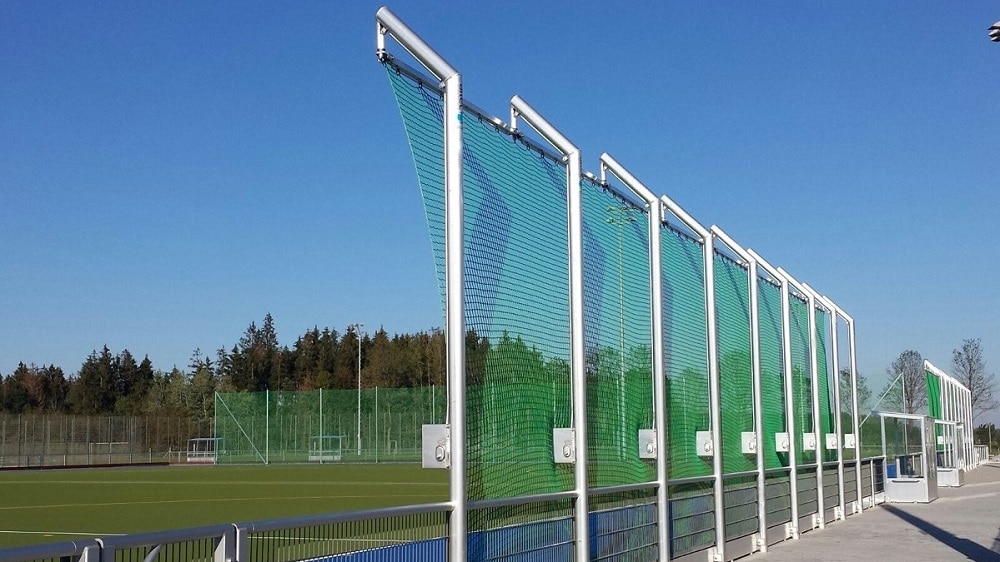 The optimal ball stop net
The planning of ball stop systems poses various challenges: systems are required at different heights, in angled designs or with different post profiles. The mesh size of the safety nets also varies depending on the intended use. This means that the ball stop is almost always individually adapted and planned according to requirements and location.
If you are planning a ball stop system or would like to buy a ball stop net, please contact us. Our nets and ball stop systems can be made to fit individual specifications, so that you get the right product for your sports field.
Sports field equipment
directly from the manufacturer artec® Sportgeräte
If you are not only interested in a ball stop net, ball stop fence or a ball stop system but also in other sports equipment from artec®, please have a look at our online shop. The artec® team is also at your disposal at any time with competent advice by phone at +49 (0)5422 / 9470-0 or by email at info@artec-sportgeraete.de. We advise you in all questions concerning ball stop with high professional competence. For further information about our products, services and activities, please have a look at the following pages in our startblog: